Write Now with Amy Weintraub
How a yoga instructor and novelist takes ideas from napkins to the printed page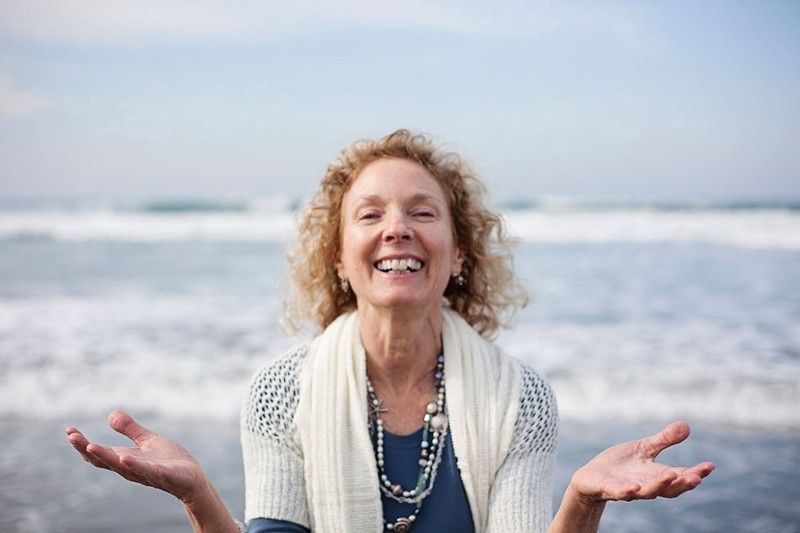 Who Are You?
My name is Amy Weintraub and I am the founder of LifeForce Yoga, an international program, based in Tucson, Arizona of accessible yoga that helps healing professionals and their clients manage mood disorders like anxiety and depression. Before that, I was a fiction writer, suffering from depression, until yoga transformed my life.
What Do You Write?
I wrote Yoga for Depression (Broadway Books/Random House), because I was passionate about sharing the practice that had literally saved my life. I studied fiction at Bennington College, earning an MFA in literary fiction, but I had been writing novels long before then. My short fiction won literary awards, but my novels were rejected, fueling my depression. In college and beyond, I wrote and published poetry in literary journals, and then went on to work in commercial television, garnering regional and national awards for documentaries. But I was depressed and on medication for many years, until I began a daily yoga practice in 1989. With supervision, I was able to slowly titrate off my medication.
I avoid nothing in my writing. In my opinion, the only way out of difficult emotions is to write your way through them. Whether I'm writing nonfiction, like Yoga for Depression, Yoga Skills for Therapists (W.W. Norton), or fiction, like my forthcoming novel Temple Dancer, I believe that we suffer when we tamp down our darker feelings. In the LifeForce Yoga I live, practice and teach, we don't deny our constricting emotion or belief. We get curious about where it lives in the body. We ask if it has an image. We own it; we breathe into it, and then we cultivate its opposite. For me, it is the same process when writing stories that are ultimately redemptive, as is my novel Temple Dancer. I lean into the darker emotions and the suffering that my characters face, and I love following them as they work their way towards freedom. They don't always make it, but the process can be alarming, passionate, and riveting, even for me as the author.
Although it's sometimes painful to dive deep, following characters who are desperate or heartbroken, I love what I do.
Where Do You Write?
As stories and ideas are germinating, I write on napkins, yellow pads, composition books. Once I have a clear structure or character, I switch to my desktop computer. Because I travel to teach, I save on OneDrive, so I can open my laptop, wherever I am and dive back in.
I like light and beauty, so wherever I am, I try to face a window. I go out in nature every day, and that nourishes my spirit, but I write indoors.
When Do You Write?
For nonfiction, I like to work with a deadline. Personally, I don't set word counts, but find it a fun challenge to work with a word count that an editor provides when I'm writing an article or book chapter.
For fiction, there are no limits in time or words. I usually begin to write in the morning, after yoga and meditation and a bike ride in nature, when I'm in Arizona, or a run on the beach or along the Cliff Walk, when I'm in Rhode Island. I can write for no more than four hours, sometimes less. Then I can edit or answer the administrative demands of my yoga business.
Why Do You Write?
Whether it's fiction or nonfiction, a flame builds in me that burns to be shared. When I write about yoga and mental health, it's from the passion to share not only what has helped me recover from a debilitating depression but has helped thousands of my students sustain their optimum mental health. When I write fiction, the passion is to understand a character who is waking up in me, sharing her story. With Temple Dancer, there was an additional motivation. When I learned what had happened in 1947 to the 1500-year-old tradition of sacred temple dance and the devadasis (temple dancers) who practiced the art — they were banned and thrown out of the temples — I became passionate about sharing this honored yet profaned way of life through the character of Saraswati.
How Do You Overcome Writer's Block?
I clear my inner space with yoga breathing, making more room inside for my characters to breathe through me.
I go out in nature and, as much as possible, observe, listen, use all my senses, and stop thinking.
Bonus: What Do You Enjoy Doing When Not Writing?
I practice yoga; I dance; I listen to live music; I ride a bike every day, and I love the people I am with. I am grateful to have a full life!