How To Be A Professional Freelance Writer: Invest In Yourself
Today I have some advice for anyone looking to launch a career as a freelance writer: invest in yourself. You are worth it!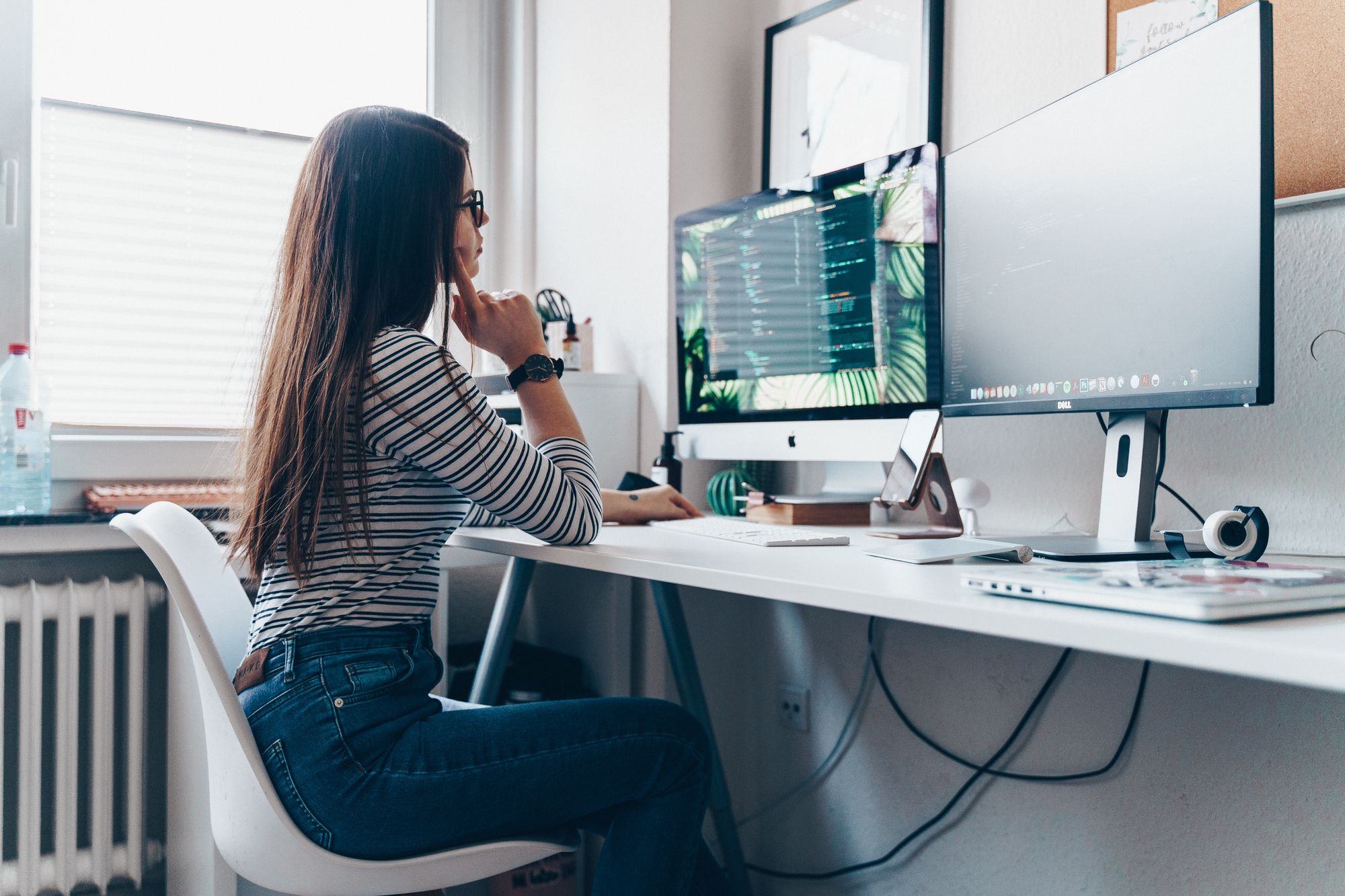 Today I have some advice for anyone who ever sends an unsolicited pitch, a cold email, or in any other way attempts to connect with a future client: invest in yourself. It only takes a few minutes (and a few dollars) to stand out from the crowd of drivel and at least make it look like you know what you're doing.
As the co-founder and editor of The Writing Cooperative, I see a lot of bad pitches. I'm talking make-you-want-to-throw-the-computer bad. These unsolicited pitches usually ask for a "guest post price" or a link share, neither of which we offer. These unwelcome interruptions to my day get deleted or marked as spam if I'm feeling extra ornery. When trying to make a first impression, you do not want to be like these people. Instead, invest in yourself and give yourself a fantastic opportunity to succeed.
Are you ready to be a professional freelance writer? Let's get started!
Invest In Yourself With A Personalized Domain And Email Address
Did you know aol.com is still a thing? Neither did I until I received a pitch email from an AOL account. If you've got one of these relics (or a Hotmail, Juno, or something else older than a class of 2020 graduate), ditch it. It screams outdated and unprofessional.
If you're using any free email provider, you're doing yourself a disservice. Yahoo? You must enjoy being hacked. iCloud? It's great for sending Animoji to friends but not for sending proposals to clients. Gmail? The reigning king of all email is trendy, there are 1.5 billion users after all, but it doesn't help you stand out from the crowd.
You might think [email protected] is cute, because it totally is, but it's not professional. your_name@your_name_writes.com, on the other hand, is über professional.
Spend about $15 a year and set up a custom domain. You can do this just about anywhere online. Plus, most domain registers will create a simple email account for a few more dollars a year.
Here are a few solid email options:
Hover (Domain: $15 Per Year; Email: $20 Per Year)
I've used Hover to register domains for years and love their privacy, customer service, and simplicity. Don't know what you're doing? They'll set everything up for you! Hover only offers domains (and email accounts, which we'll get to in a second), so if you want complete web hosting, you'll want to look elsewhere. Just don't use GoDaddy.
Dreamhost (Domain: $15.99 Per Year; Email; $1.67+ Per Month)
All domains are about the same price everywhere you look. Like Hover, I've been using Dreamhost for a long time. They aren't as simple as Hover, but they are a great register and provide hosting as well (which we'll talk about in a bit). So if you want a complete package, Dreamhost is an excellent option.
The only downside to using a domain register's email service is their web interface, and spam prevention usually sucks. Luckily, you have a few more options.
Google's G Suite ($6 Per Account Per Month)
Google's G Suite puts all of Google's apps (Gmail, Calendar, Drive, etc.) on your own domain. It's a great service, but it's not free. Each user account is $6 a month, but you get Google's fantastic spam filtering and the ease of Google's interface for that price.
Zoho ($1 Per Account Per Month)
Don't want to spend Google money? Zoho is a suitable option that's $1 per month. It's like Google, just not as polished. We used Zoho in the early days of The Writing Cooperative before moving to Google.
33mail / EmailEngine (Free/$1/$5 Per Month)
I'm an enormous fan of David Koff's Tech Talk newsletter. In Episode 18, he shared about his favorite email tool, 33mail. Since then, I've been using 33mail and its counterpart, Email Engine, for 99% of my email usage. It's fantastic.
33mail uses your domain and provides unlimited addresses that forward anywhere you want. When you reply to the forwarded email, 33mail sends it from the original address. So no one knows what your actual email address is. This provides a layer of privacy, security, and the ability to change your email address without affecting contacts. Plus, it's inexpensive. Win-win!
Invest In Yourself With A Custom Website
You bought that custom domain, so you might as well use it for something more than just an email address. It's time to create a website. And yes, you need a website even if you publish everything you write on Medium. Why? For SO many reasons. I'll let Danny Forest explain why.
Your website doesn't need to be overly complicated. At the very least, you need a nice place to show the world you're a professional.
Look at my site. It's a collection of my social accounts and links to a few of my favorite stories. Plus that ever-important newsletter sign up. But that's it.
Like email accounts, there are a million options for setting up a website, and most are inexpensive.
Let's look at a few options:
GitHub Pages (Free)
If you understand Git and can write HTML/CSS, then GitHub Pages is a fantastic option. It's free forever and can host as many pages as you want. I used this option for years. While I can code my website, I relied on the fantastic and free templates from HTML5up.net as a starting point. If you have a little coding knowledge, GitHub Pages and HTML5up is a perfect combination.
Carrd ($19 Per Year)
If the thought of coding your own site sends shivers down your spine, there's a much easier option. Carrd is a web hosting service by @ajlkn, who created HTML5up. For $19 a year, you get up to 10 websites. I host both my website and ChowDownOrlando and still have 8 slots left! The system is super easy to use, and everything comes out looking fantastic.
WordPress ($4+ Per Month)
WordPress isn't just for blogs (though it's fantastic for that). Did you know over 30% of all websites use WordPress? WordPress provides super simple template design tools and lots of flexibility through plugins. There is a slight learning curve to master all of WordPress' features, but there is an insane amount of tutorials out there.
While you can set up a WordPress site for free, using a custom domain starts at $4 a month. Depending on the features you want, it can go up to $45 a month. If you're not careful, WordPress can get expensive fast.
Self-Hosting (Various Prices)
If the GitHub Pages sounded like a winner but static pages seemed like an unnecessary hindrance, then you're ready to self-host. Self-hosting offers all the flexibility in the world but you need to know what you're doing. Besides HTML/CSS, you need to understand FTP and (to some extent) SQL and server management. Does this sound like gibberish? Let me point you back to Carrd.
Self-hosting means renting a web server and installing whatever you want. WordPress. Your own HTML. A store. Whatever. Several web hosts (like Dreamhost) will install WordPress or other backends for you. Sometimes they charge you for this, but it's simple. If you're going the self-hosted route, you should be able to install WordPress without a problem.
Squarespace ($12+ Per Month)
Sponsoring every podcast that ever existed, Squarespace provides tools to create beautiful websites. However, it's wicked expensive. Squarespace's prices put WordPress' to shame. If Squarespace sounds like a good idea, I'll set you up on Carrd or WordPress for the money you'd spend on Squarespace this year. Hit me up.
Invest In Yourself With A Well Crafted Pitch
Now that you've spent a few minutes (and maybe a few dollars) looking like a professional, it's time to make a good first impression. Send a pitch that sounds like you know what you're talking about. Most people lose attention reading anything longer than a tweet (if you've read this far, bravo!), so don't meander and get to your point.
Show the person you're emailing that you care. It's ok to use a form email, but don't make it look like you're using a template. When I pitch Write Now authors, I send a form letter, but there are multiple places I tailor the template to the author. If the only customization in the email is the name of the publication/person your pitching, try harder.
A customized pitch and shiny website cannot make up for a poorly written email. You're pitching your skills as a writer, so it better be free from typos. I've used ProWritingAid for a long time and cannot recommend their service enough. I run everything I write through ProWritingAid before hitting publish.
Spent all your money on domains and websites? Hemingway provides basic editing tools for free. Too lazy to use a free service? I'm not sure what you're in the writing business for, but ok. At the very least, read your email out loud. Does it sound like something a human would say? Perfect. If not, fix the problems.
Mailchimp (or any other automated marketing tool) is great for newsletters, but DO NOT USE IT TO SEND PITCHES. I can't tell you how many cold pitches I get where someone sets up a Mailchimp automation that sends me multiple "did you see this?" emails if I don't respond.
Not only is it incredibly annoying and violates Mailchimp's terms, but it's also extremely disrespectful and a quick way to the spam box. If I lived in Europe, it'd be a GDPR violation with insane fines. In other words, don't be an idiot and respect the people you're contacting.
Conclusion: Invest In Yourself
We've covered a lot today, but the bottom line is this: invest a bit of time and money in yourself. It will pay off immensely in the long run.