The Life-Changing Power of GTD For Freelance Writers
Evaluating Trello, ClickUp, and Notion to stay organized and productive
Getting Things Done, or GTD, is a staple of productivity. The concept, coined by David Allen in a book by the same name, focuses on breaking projects into individual tasks. All your attention is focused on the task at hand rather than the whole project. This increases productivity by accomplishing smaller parts of the whole.
Since the GTD book released in 2001, many alternatives and enhancements sprung up. One notable method is Kanban, Japanese for billboard. The Kanban method was initially created in the 1940's by Toyota. In the mid-2000's, Microsoft engineer David Anderson revolutionized the concept for software development. Since then, Kanban Boards are a staple of almost all GTD processes.
Kanban uses a board to collect all projects and tasks in a single space. A new card (or Post-It Note) is placed on the board for each task. The cards are broken in columns, or buckets, based on their priority, status, or whatever indicator designated by the board. It's a fantastic way to organize. When a task is complete, its card is physically moved to the complete bucket.
While working for a nonprofit consulting firm, I discovered the power of Microsoft Planner. Built on the Kanban method, Planner is a board-based system to keep tasks organized and broken into smaller chunks. When I moved into full-time freelance writing, I wanted a system to replicate the organization and productivity focus provided by Kanban boards without requiring a Microsoft 365 subscription. Plus, I wanted a bit more than a single-focused Kanban method.
I researched and tested three major players in the GTD arena: Trello, ClickUp, and Notion. All provide Kanban-based GTD and are all highly recommended in freelance writing communities. In my tests, I found most documentation for each system focused on software development, not writing or client management. Trello and Notion have templates for these functions, but no real explanation of how the systems worked for writers. As a result, I hope this comparison helps you decide which method is right to help you stay organized and productive.
Note: This is not a sponsored post, nor are there any affiliate links included. The goal is to provide real world examples of how these tools benefit a freelance writer's workflow.
Cost: Free for single users (with limitations)
Features: Kanban board-based; tags; limited automation; due dates; reminders
Initial Impressions
Of the three tools tested, Trello is the system most like Microsoft Planner. Users set up a Kanban board with various buckets housing different project stages or whatever organizational structure desired. Cards for each project sit inside the appropriate bucket.
My Trello board included buckets for Overdue, In Progress, Concept, and Complete. Each project had a unique card in the appropriate bucket. The card included checklists based on the project, to-do lists, client notes, and due dates.
Out of all the systems I tested, Trello is the easiest to get started. The tool is pretty straightforward in its approach but includes several power features below the surface. Where Trello truly shines is automation.
You can set up automation for anything you can think of. One of the many automation rules I set up created a new client check-in date one week in advance every time I updated the "last contact" date field. Trello's automation is powerful and had the potential to revolutionize my workflow. The problem? Free Trello accounts are limited to 50 automation runs per month. I hit that limit in 6-hours while setting up and testing the automation system.
I asked and, to their credit, Trello expanded my first month's quota since I initially wasn't aware of the limitation. However, I realized how I wanted to use the system wasn't really possible in the free version. I also didn't see the value in upgrading to $9.99 a month to increase the automation quota to 200 per month.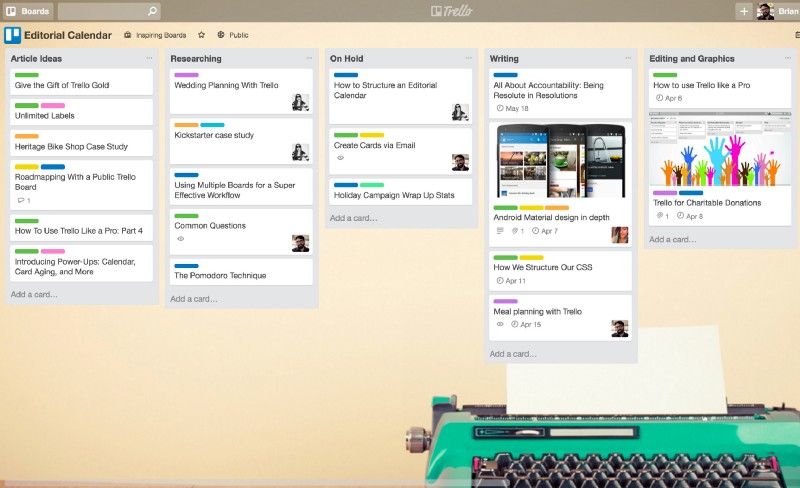 Mobile App
Trello's mobile app is okay. Kanban boards require a lot of scrolling. Vertical scrolling through cards and horizontal scrolling through buckets. Just about all functionality existed in the phone and iPad apps, but they were not pleasant to use. I preferred the web interface to mobile apps.
Evaluation
Ultimately, Trello is excellent at what it does: Kanban. However, I wanted an all-in-one approach to merging Kanban and client management for dedicated organization and productivity. Trello did not deliver.
Cost: Free for single users (with limitations)
Features: Kanban board-based and database/table-based; tags; limited automation; due dates; reminders
Initial Impressions
ClickUp bills itself as an all-in-one approach to productivity. In addition to Kanban boards, ClickUp promises to-do lists, time-tracking, client management, document management, internal communication, versioning… you name the feature and ClickUp has you covered. Sort of.
When I worked for a nonprofit, we had a saying that the organization cannot be all things to all people. When you try to do everything, nothing is done with excellence. ClickUp may do all the things listed, but I didn't experience half of them because of how complicated the system was to learn.
ClickUp looks great. It's highly polished and feels like a modern web app. Customization features abound, and the system feels very powerful. However, the learning curve is incredibly steep.
Like Trello, ClickUp offers automation features. I didn't bother wasting time trying to learn them because the free version only offers 10 automation runs a month.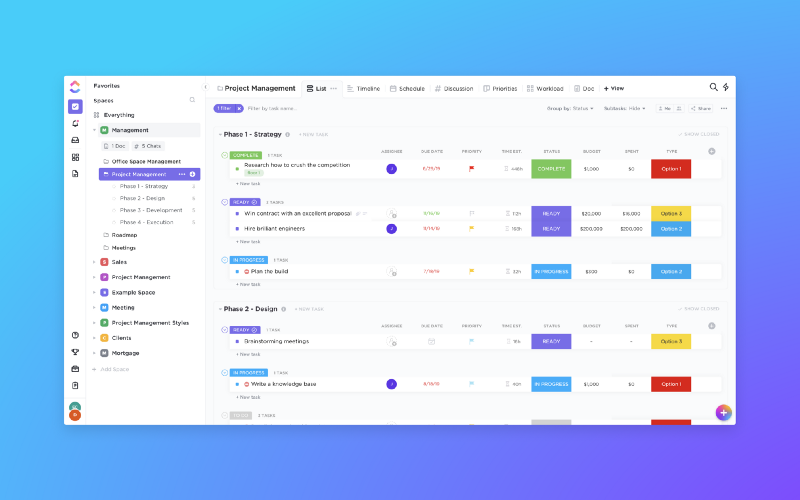 Mobile App
This is where ClickUp lost me. Their mobile app is basically in beta. Upon loading, half the screen is dedicated to the app roadmap, touting hundreds of new features "coming soon." Not a good look. Plus, I couldn't figure out how to dismiss the notice. It was always there, on both my phone and iPad, every time I opened the app.
To say functionality was crippled on the app would be an understatement. Short of viewing existing cards or adding notes, the app didn't do much. All of the polish and modern feel of the web app was lost on mobile. The ClickUp app did not encourage me to stay productive and get things done.
Evaluation
I spent the least amount of time with ClickUp. Lack of real functionality in the mobile app was an immediate deal-breaker. Had the app been remotely functional, ClickUp would still get a pass from me due to it's incredibly complicated nature. I don't want to take a class on the tools I use; I want them to be intuitive and friendly. ClickUp did not pass muster.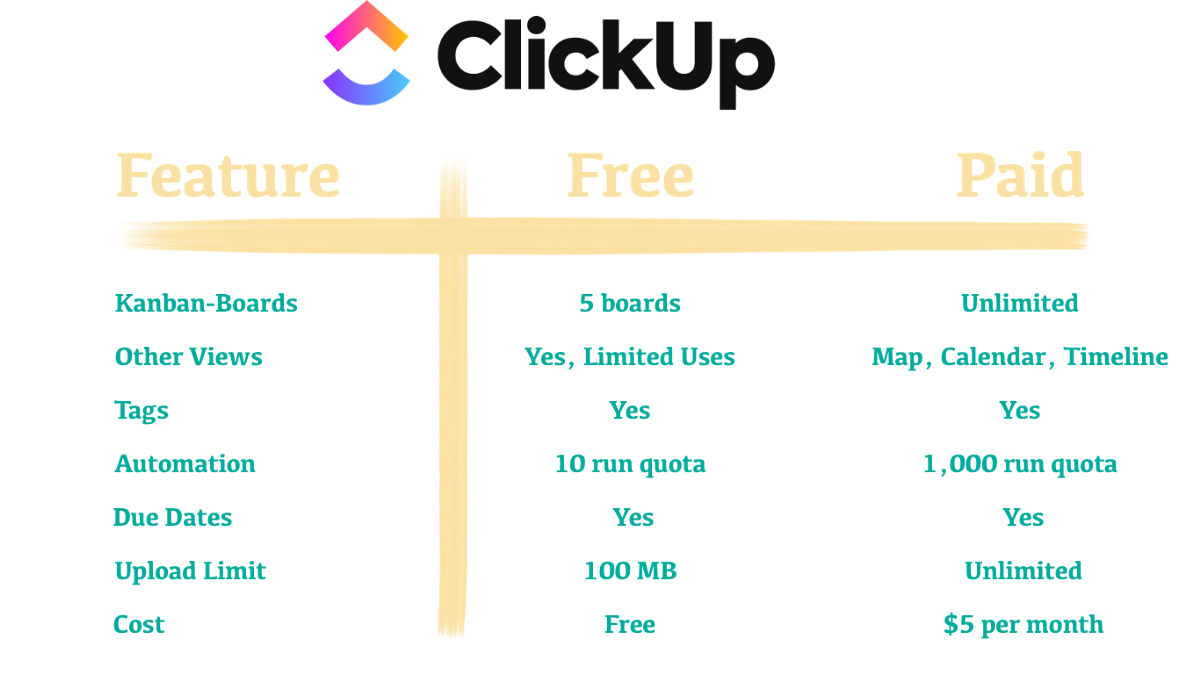 ---
Cost: Free for single users
Features: database based with views for Kanban, calendar, list, and more; tags; relational tables; due dates; reminders
Initial Impressions
I first tried Notion several months ago. After an hour or so, I gave up and deleted my account. The system felt too empty and featureless upon my first use. In hindsight, this is both Notion's weakness and strength. Notion is, essentially, whatever you want it to be. While the possibilities are endless, this is intimidating to new users.
Notion offers several templates when creating new pages (their word for table). While helpful for set up, these templates don't provide a lot of information about using the system. While I didn't want to take a class to learn the tool, I did feel a second trial was worth my time because of how many people swear by the service.
Thankfully, I found The Writer's Ultimate Guide To Notion by Owen Williams. The article was sponsored by Notion, but it explained how the system worked. Owen's walkthrough made everything click for me.
Notion's power comes from its flexibility. Notion is built on a database system. Similar to Microsoft Access for those old enough to remember, or SQL for web-friendly people, or a basic spreadsheet for everyone else. Notion stores data of all types in, at the primary level, a table. However, Notion can display the information in several ways, including calendars, lists, and timelines.
Unlike Trello and ClickUp, Notion does not offer automation features. However, it does have relational columns. While not automation in the sense of the other two systems, Notion tables are linked to each other and information is shared across the database. Relational tables and shared data proves valuable once you begin exploring possibilities. Plus, where automation runs have monthly quotas on the free tiers of Trello and ClickUp, Notion provides unlimited relational tables.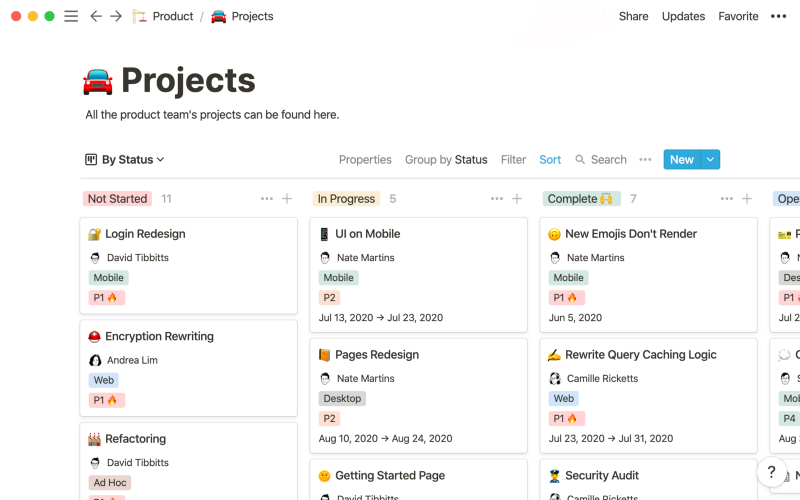 Playing with Notion's abilities and following Owen Williams' lead, I set up five tables:
Clients: This is my Customer Relationship Manager (CRM). This table stores contact information, the last time I contacted a client, income generated from the relationship, and more.
Projects: This table contains every project I'm working on for clients. It's related to the Clients table, so contact information copies over to appropriate fields. Each project gets a new entry in the table and tracks its progress, invoice status, payment received, etc. The Projects table relays income back to the Clients table, so I know how much actual income is generated for each client.
Ideas: This table contains all of my various writing ideas. Columns are set up for title, subtitle, intended publication, project status (concept, outline, draft, editing, submitted, published), and final link.
Calendar: This table pulls information from the Ideas table, combined with single entries directly to this table, to create a visual representation of all scheduled pieces. Unlike the other tables, Calendar defaults to Notion's calendar view. Just like that, Notion provides a complete content calendar to see where my publishing gaps are.
Home: While technically a table, Home is more of a dashboard providing easy access to the other tables and at-a-glance information.
Notion's power comes from its flexibility. Want to see a table in Kanban view? You can do that. Want to see the same table in a calendar view? You can do that, too. While intimating at the start, Notion has more possibilities than the other tools I tested.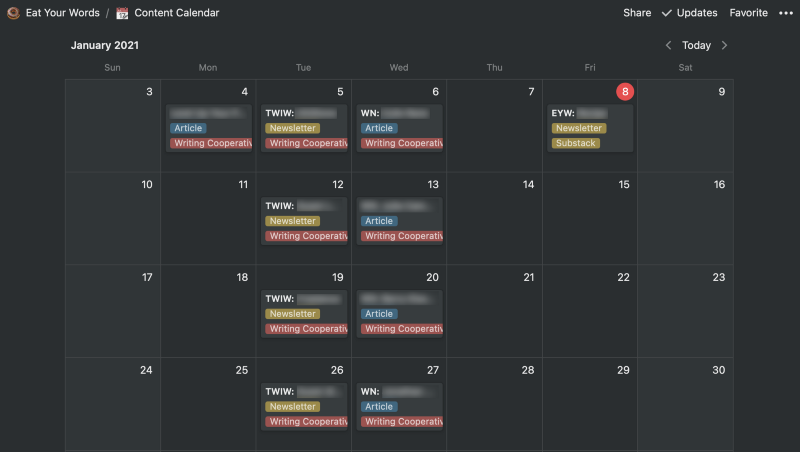 Mobile App
Notion's phone and iPad app are, with very few exceptions, identical to the web app. The only thing not possible in the mobile app are adjusting a few account settings. Very minor and not impactful in any way to the functionality of the system. This was a massive plus for Notion compared to Trello and ClickUp.
Evaluation
Notion is my go-to productivity tool.
Because the mobile app is so powerful, I always have my full database at hand. If a client calls looking for an update while I'm out, I can quickly check the project status and relay information. I can also update the client record with call notes that are fully synced and waiting for me next time I'm at my desk.
When I have an idea for a new article, the Ideas table is always ready. I've set up a New Idea template that automatically populates fields, marking the idea in the Concept stage with low priority. The template also creates a basic outline in the notes and prompts me to start writing. Notion has Markdown built-in to each record, and that's where I outline every article. I still, however, copy the outline into Ulysses for full drafting.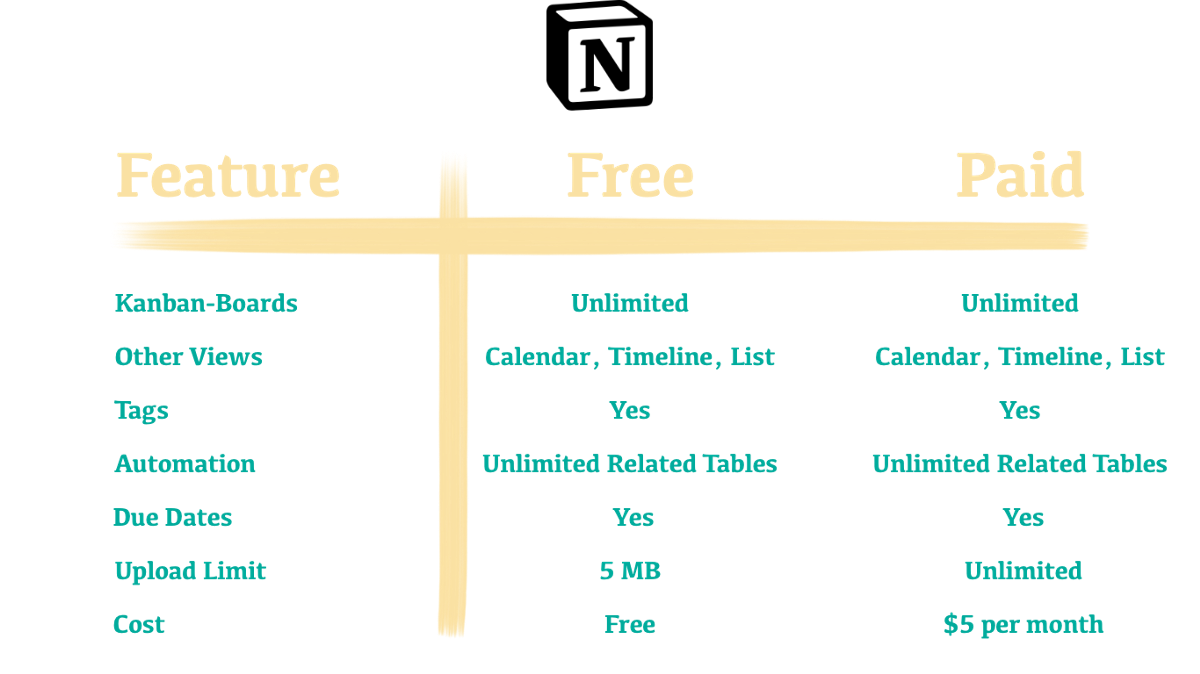 Notion does not force adaptation to its usage. You can set up and use Notion in any way that makes sense for you. This is both powerful and intimidating. The unlimited uses is what originally tuned me off to Notion, though I'm glad I kept digging. I realize my usage of Notion may not align with your work style or preferences, so I asked a few other writers how they use Notion to provide another opinion. Here's what they had to say:
I use Notion for a bird's eye view of my blogging progress. For me, it works brilliantly in Kanban form, and I have columns set up for the various stages each blog passes through during its lifecycle (from idea to published). I also use the relational database capability within Notion to link my blogs to corresponding videos, review units, and email series. It's my bible.
I'm using Notion to track my daily to do lists and to see how much money I made each week. What I've done is created a table that has columns for the task, the client, when it's due, and how much money I'll make from that task. Then, I break that table down into 5 parts for each day of the week.

At the bottom of the table I have it automatically sum up how much money I'm making that week. This helps me know what income I'm bringing in, even if I'm not invoicing for it until the end of the month. This way I know if I'm having a slow week and need to add more work on to ensure that I'm hitting my annual goals.
Notion is my one, my only, my everything. When I think of all the time, money, and energy I poured into other apps (apps-that-shall-not-be-named), I shed a big fat digital tear. Notion is my daily journal, my business card rolodex, and my expense tracker. It's my repository of research materials, my digital file cabinet, and my idea store. If I want a list of notes, I create a list. If I want a table, I click a magic button and see a new view. Calendars, timelines, full-blown databases linked to notes and pages and other databases; it's pure magic — magic that supports markup language, sharing and simultaneous online collaboration, slash commands for mouse-less editing, and works on any device that can connect to the web. If you're looking for a way to organize and manipulate digital information for either personal or professional reasons, don't bother looking at anything else. I'm getting teary-eyed just thinking about it. Off to get a tissue…
Conclusion
When it comes to productivity, everyone's style is different. What works for me may not work for you. While I love Notion, it may not be the best fit for you. It's essential to find the tool you love.
That said, no matter what you choose, the number one rule is sticking with your choice. All of the tools discussed are extremely powerful, but they are all worthless if you don't use them. Stick with your tool and integrate it into your daily routine. That's where the life-changing power of GTD shines.
What is your preferred method of getting things done? Let me know in the comments.
---
A critical note about all three systems. Each service mentioned sync across their own servers. While writing this piece, Notion went down for a few hours. While my Notion database was not affected, many people were unable to access their information. No information was lost, but the incident is a reminder every tool has some limitations.