Write Now with Hilary Hauck
How an unopened bottle of wine keeps this writer motivated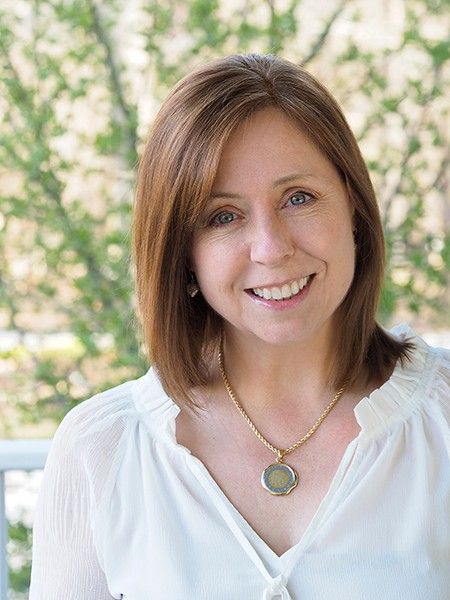 In today's interview, Hilary Hauck reveals she has a bottle of wine labeled "Writer's Block" sitting in her office. The bottle, never opened, symbolizes her avoidance of the dreaded concept. Though, Hilary admits she occasionally needs "Writer's Nudge" to keep writing. Enjoy her interview.
---
Who Are You?
I'm Hilary Hauck, author, and translator of Italian to English. I'm from the UK, lived in Italy for over a decade, and now I'm based in rural Pennsylvania.
Connect with Hilary on Facebook, Instagram, or Twitter.
What Do You Write?
I write the stories that take hold of me and won't let go. I draw a lot from real life. My debut novel, From Ashes to Song, is historical fiction inspired by true events. My second, currently in the revision stage, is women's fiction inspired by the universal truth: nobody is who they say they are. The main character in the third, in a 'plantsing' stage, was inspired by a friend, and the story has elements of magic realism.
Rather than genre, the common thread of my stories tends to be the crossover from one culture to another. Having lived in three countries myself, I love to play with the cultural and sensorial lenses people use to experience the world around them, and how those lenses can be changed.
I absolutely love what I do. I can create any place, any person, any problem, any resolution, and the best part of all is how a story I make up might make sense of a real situation for someone else.
Where Do You Write?
I have an office in my house, a nifty twenty-second commute to work. I'm surrounded by books and meaningful mementos, many of which come from Mindful Writers Retreats. They channel the creativity of my writing tribe even as I work alone.
I most often use my tablet or laptop. For revisions, I like a printed manuscript and different colored Ink Joy gel pens. When I'm jotting ideas and notes, I use Blackwing 601 pencils. I have stacks of notebooks, and I always carry a mini-notebook for random thoughts and observations.
When Do You Write?
The first thing I do every day is write for an hour. An author friend, the late Ramona Long, taught me this practice. She called it the morning sprint. You do it first thing because then no matter what you do for the rest of the day, you've already spent an hour doing the thing you love most.
I avoid setting a word count goal because to me that feels like quantity over quality, and it's not helpful when I'm in a revision stage. I find it's more effective to designate times during the day when I set a timer for fifty or sixty minutes and I don't allow any distractions to derail me.
Why Do You Write?
The stories have always been with me — whole series of them. My favorites were from holidays. Growing up, my family loved to travel. In summer, we'd go island hopping in Greece, and I'd lean over the edge of whatever boat we happened to be on, making up stories about the underwater kingdoms where the sea fairies lived. The sea fairies were those sparkling glints of sunshine on the water. It was quite the epic fantasy series.
At this point what motivates me the most to write fiction is real life. Writing is my tool for sharing my discoveries, observations, and perspectives about life. Real life is mucky, it's hard, and if there's one constant in life, it's change. If there's one constant in stories, it's change. In short, there is no manual for life, but stories have the power to guide us, even if we don't always realize it.
In stories, we get an inside look at the character's struggles. Call me an idealist, but a reader may see parallels with their own struggles, so the story can be a kind of beacon. It can ignite hope. If a reader discovers a character entirely different from themselves, perhaps they begin to understand people who are different from them. That can ignite empathy. Or perhaps they start out thinking the character is entirely different from them, and along the way realize how much they have in common. That's the superpower of stories in my mind. Now if everyone in the world could just read a story and learn that we really do have more in common with each other than what divides us, wouldn't that be grand?
How Do You Overcome Writer's Block?
Some years ago, a friend gave me a bottle of wine called Writer's Block. I told her I'd uncork it the day I got writer's block — the bottle is in my office, cork still firmly intact. I have a constant flow of ideas and not enough time to capture them all in stories.
Some days, I might need a writer's 'nudge' as in I have to work harder to come up with a scene or flesh out a character, and for that I have two tools. I either take a walk in the woods and let my characters talk, or I set the timer for 10 minutes and write furiously from the character's point of view. Sometimes I use both methods in succession, but generally just one of these gets everything flowing.
Bonus: What Do You Enjoy Doing When Not Writing?
I love travel and photography. I love to take photographs, especially macro shots of flowers and insects. There's a whole other universe happening in nature if we just slow down and look. I love the inspiration that travel brings — seeing how others live, eat, and play. And I love seeing how nature has evolved in different locations. Both photography and travel restore my perspective on life. I'm just a minuscule part of a world that'll carry on with or without me. It's up to me to make this one shot at life I have the best it can be.