Write Now with Lizzi Tremayne
How a 24/7 veterinarian finds time to write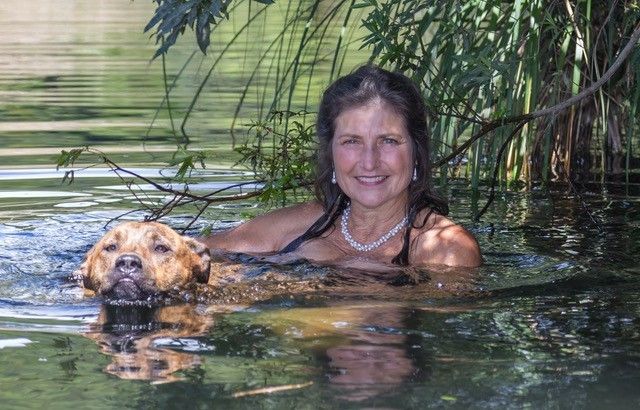 Who Are You?
I am Lizzi Tremayne, the author, also known as Elizabeth Thompson DVM, equine veterinarian with a specialty equine dental practice and maker of portable equine stocks. I grew up riding wild in the Santa Cruz Mountain redwoods of California, graduated from UC Davis School of Veterinary Medicine in the Equine Track, practiced in the California gold mining country of Placerville, then emigrated to NZ a few years later. I've been here ever since and raised a family near Waihi. My partner is a techie in the big smoke of Auckland, and we live beside a rocky trout river in a beautiful green valley with horses, Dexter cows, dogs, and the occasional chickens and wild ducks. Life's been good to me.
What Do You Write?
I write unpretentious, awarded, eminently readable contemporary and historical rural fiction about the Old West, Tsarist Russia, Clearance-era Scotland, and Colonial New Zealand, as well as veterinary fiction and non-fiction.
As a child, I could always be found hiding away somewhere in the tall grass with my pony on the end of a lead, book in hand. I started journaling and writing near the end of my elementary school time, so I guess I started early. High school and nine years of university pretty much put paid to reading or writing anything not school-related, but after finishing vet school, I began to scribble again. As a veterinarian, I wrote for veterinary journals or for public consumption in equestrian magazines, but it was always a byline. Fortunately or unfortunately, an injury laid me up for far too long, and writing became, well, something that kept me from losing my marbles… and learning craft became an obsession. I found my tribe in the RWNZ, the best, most positive, and encouraging group of writers in NZ. My new tribe members taught me so much… and along with my competitive spirit, it wasn't long before I began offering my work in cold reads and editor pitches, as well as entering competitions… and was pleased to find others thought I could write. The positive response from editors to my work and winning some of our big contests with my first novel really started me on my way… and helped me keep going when things got tough.
No, I don't tend to avoid anything (other than, of course, the C-word, which makes me growl). I challenge myself to concentrate on honesty and real feelings in my writing. I find by putting myself in my character's situation, I let myself feel what they do, no matter how gut-wrenching, and attempt to get it down on paper. I also find accuracy, especially in historical writing, to be vital, even if it's a theme that's hard. I'm lucky that researching has always been part of my life as a vet and student, because it's made researching for historical novels normal to me. The hardest thing is dragging myself out of the research rabbit holes.
I do love what I do. If I didn't, I wouldn't be doing it. Sure, sometimes things get hard, but I figure, if I could get into UC Davis School of Veterinary Medicine, well, not much else is that hard and I just need to pull on my big-girl panties and get on with it.
Wait a minute! Stop press. That's a lie. I do do things I don't want to do. Like promoting myself as an author, as a veterinarian, or invoicing for my veterinary practice. I finally realised it's that old impostor syndrome. My partner laughs. "One of the most educated people I've ever met, and you still feel like that?" Yes. I also lied above when I introduced myself as simply Elizabeth Thompson DVM. It's actually Elizabeth Thompson DVM, BA (Hon's), MANZCVS, GradDipTeach, (along with a handful of other certifications) so I should be okay with all this, right?
Well, actually, no. I'm only skyting about those other letters after my name to highlight the concept that anyone, anyone, no matter how educated or awarded, is susceptible to "Imposter Syndrome". It's good someone's finally put a name to it. I look good on paper but work hard at trying to believe that successful-looking person is me. The aforementioned self-promotion and even my veterinary practice invoicing (sort of essential, as it pays the bills) puts me into my biggest procrastination rabbit-hole ever. I detest these because deep down (and perhaps not so much of the deep), I don't truly believe "I am enough" or "my work is enough", despite what others say, and despite telling myself, desperately at times, that I amenough. I fear potential rejection, but I do what I have to do. Luckily or unluckily as it may be, as an introvert who was put onto the public stage from an early age with all branches of my family owning retail businesses, I learned to shut the terrors down and just do it. Whatever it was. This has its good parts and bad parts, as you might imagine. It's tended to make me look good on the surface, but few see the deeper scurrying like a duck's feet underwater. Sound familiar, anyone? So, when I get up on stage and do that talk, I look like an extrovert… but it's always a huge game I play with myself. "What if you loved this?" It works, but it's taking time. What I'm trying to say is: you can all do this. Whatever, as I said, this is. Make the world yours.
Where Do You Write?
Before a big sliding glass door on my upper story, I have a stand-up, sit-down deskatop my existing desk, which raises and lowers with the twist of a handle on each side. Spinal injuries won't let me sit for long! The saddle chair I just made from an old saddle and barstool is a new fav. Having previously only spent hours in the saddle on a moving horse, I never realised they aren't made for sitting on a stationary platform — hence my new understanding encourages me to stand up even more! I write in Scrivener for so many reasons, the first being its autosave function… set for every minute or so. I like being able to work on a different part of the story if I wish or a different character's POV — and Scrivener lets me do that. I now use Vellum to format all my books, digital and paper. The only problem I have with Vellum is that I didn't get it years ago. I wrote my first series of historical fiction (around 100K each) longhand with pencils, gel-ink, and other flowable pens in spiral notebooks (with scribbles on the assorted cafe napkin or horse feed bag, of course), mostly. The story always flows so much better than if I'd typed it. An added advantage? By the time I've deciphered my truly abysmal handwriting (think Dr. Kildare crossed with Sherlock Holmes), my first edit is done. After I completed the first three books of The Long Trails series, I made myself write on a keyboard in the interest of time and sanity. Trying to read my words truly does my head in. If I get stuck, returning to longhand usually fixes it.
If I get even more stuck, I head out to our farmlet for a walk with the dogs or horses along our trout river in gorgeous NZ. Someone from the story usually sorts us all out and we head back in and slide back into the groove. New software? I just got Plottr and can't wait to try it! I list all of my helpers in my Resources section on my LizziTremayne website.
When Do You Write?
I'd like to say I have a set time to write… but… with a farm (read: cows, horses, dogs, water pump malfunctions, mud, injuries, etc.) and a veterinary practice (read: on-call 24/7 for emergencies, equine dental extractions which can take eight hours… each…), not to mention a grandson aptly named Odin, my writing schedule couldn't be described as… well, regular.
So, it gets fitted in. When I can, I write first thing after coming in from feeding out (after whatever urgent farm issues have arisen in the dark hours). I aim to write 2000 words per day. Right now, I'm not making that goal, but catching up and will soon be back to it. Lesson: When life gets busy and hard, and it's your sanity or writing… I vote for sanity. Writing will not go away. The muse will return. Believe it.
I pull up Scrivener and return to the scene I began last session, or the new one in which I've entered at least a line of text or notes to start my brain working upon my return to my story.
I'd have thought COVID would be great for my writing… but it seems I had actual TIME AT HOME with my partner, which translates to WORK ON THE FARM. If you live in the bush-clad areas of New Zealand, you truly make hay (or do any other outside jobs) while the sun shines. It rarely stays dry for long, which is good. We have plenty of grass to feed stock. But writing time suffered. It will return.
I like to set goals, which I usually meet, unless the farm or practice take precedence. Self-set goals. Deadlines… I tried them, valiantly, more than numerous times… but with the life I lead, as I said, something's got to give. Scrambling my brain is not ideal. When I've signed up for Nanowrimo, I've won, but haven't entered for several years. I highly recommend it to those beginning writers who are stuck on Chapter One because they continually go back and edit long before they've written THE END. Nano will cure that arguably nasty habit… in 30 days or less.
Why Do You Write?
Over the past 30-plus years, as I said, I wrote plenty of articles for horsey magazines and newspapers, and veterinary journals, but it took that injury to immobilize me long enough to get back to my high school dream of writing historical fiction. I love finding tidbits of the past — obscure (and not so obscure) people or places with interesting histories. Problem is, I have too many to write about. That's why travel is so dangerous for me. Journeying to new places tends to deepen my historical research rabbit-holes and increase the length of my TBW (To Be Written) pile to unsurmountable levels. I can safely say I will never run out of writing ideas. Probably the only "never" I can really own! I am inspired and fueled by even small snippets of articles which let me discover new-to-me people, places, or situations from the past. The possibilities! The "what if…?"! While I'd have enjoyed the life of an archaeologist and historian, my dream of becoming a horse vet was more deeply rooted, so instead of old ruins, I delve into the mouths of graceful equids. Oh, and about ruins… I love ruined castles the best, (those possibilities, again) and what might have happened within those stony remains. Their imagined stories run before my eyes and let me live in them for a short while. The excitement of this motivate me to write so others may come along and experience that world along with me, letting history live. I seek to offer history in a palatable form to those who may never open a history tome.
My contemporary fiction comprises a semi-autobiograpical series, which I unknowingly started in the middle before I realized it would be a series. As a child, I loved to read stories about animals and the veterinary profession. My favorites were those by James Herriot, and Mary Stewart's Airs Above the Ground. Fast forward to just a few years ago, my partner repeatedly said he thought I should write some veterinary stories.
"But I don't have any stories!" I'd reply, and keep driving. The next time I'd tell him a humorous or heart wrenching tale from my practice life, he's quirk his lips and raise his brows.
"There's another one," he'd mutter. When I was invited to contribute to a box set, I thought I'd pull some of those stories out of the closet and wrote Lena Takes a Foal. Two other novellas followed, and the Once Upon a Vet School series was born. Before completing any more adult stories in the series, though, I'll return to where it should have begun, to Book One, which will be one of four written for Junior readers. As the series will follow Lena, the heroine, and her friends as they grow, Middle Grade stories will follow, then YA, and then NA or Women's. The last ones are intended to fall under the "Long in the Tooth" subseries heading, or now, in my own timeline. My motivation for this series? Two reasons: to write the sort of stories I've loved to read throughout my life, and more importantly, to encourage people, young and old, to follow their dreams. I had encouragement, but I also had discouragement. If I can help even one person to stand strong, to help them strive for their goals when the world seems against them, I'll be happy.
How Do You Overcome Writer's Block?
I'm probably not the best person to ask about overcoming writer's block, because for me it doesn't exist. If it's time to write, I stand up or sit in my saddle-chair which I just created and get on with it. What is coming out is a first draft. I know it's going to be crap. So what? As so many have said, "you can't edit a blank page". Sometimes when I've just finished a story and been immersed in editing for ages, going back to writing is hard. Really hard. I'd rather be editing. It's easier. It doesn't give me the anguish writing can.
If I'm really stuck and things just aren't happening, I jump to another part of my story and work there. I use Scrivener, so it's easy to do. My stories tend to have multiple story lines running in parallel, so there are plenty of offshoots to work on. If I'm even more stuck, I go for a walk, (like Steven King… preferably without being run over by a van) on our six-acre farm full of animals on a gorgeous river. A walk clears things for me and lets my characters get on with their job, so I can do mine.
Bonus: What Do You Enjoy Doing When Not Writing?
When I'm not writing, I'm swinging a rapier or shooting a bow in medieval garb, riding, driving a carriage or playing on my hobby farm, singing, or looking into a horse, zebra or rhino's mouth. I also love meeting my readers either in person or online!
A version of this article also appeared on Medium.