Write Now with Faith Adiele
How growing up in a multigenerational, multinational, multiracial, and multicultural family shaped this author's work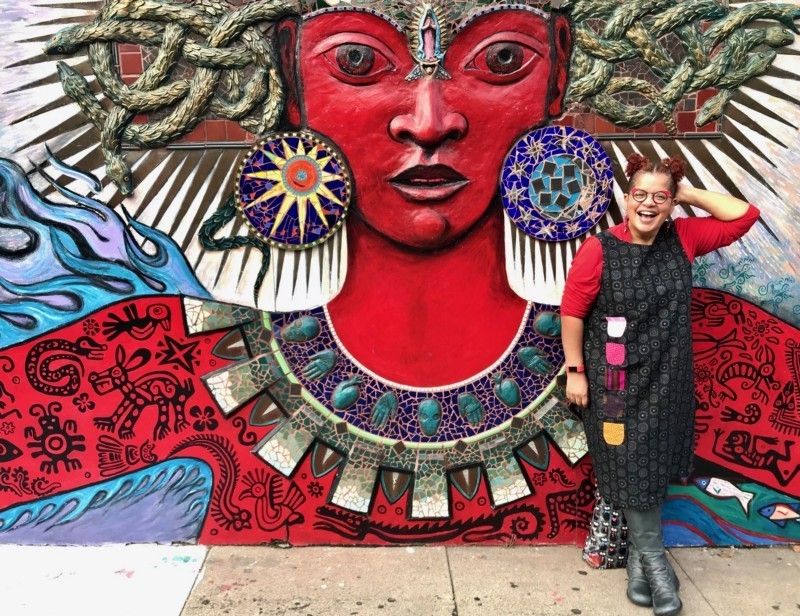 Write Now provides a glimpse into how different people write for a living. Today's edition features Faith Adiele, author of Meeting Faith: An Inward Odyssey, The Nigerian Nordic Girl's Guide to Lady Problems (audiobook or ebook), Coming of Age Around the World: A Multicultural Anthology, and the PBS Documentary My Journey Home. Follow Faith on Instagram, Twitter, LinkedIn, and Amazon.
Who Are You?
Hello! I'm Faith Adiele, an author, storyteller, speaker, editor, mentor and activist teacher in Oakland, California in the San Francisco Bay Area. I'm a writing and literature professor at California College of the Arts, and I teach around the world, including Stonecoast Low-Residency MFA Program, Anam Cara Writing Quest, Left Margin Lit, and VONA/Voices: Summer Workshops for Writers of Color, where I founded the nation's first workshop for travel writers of color. I'm also co-founder/co-host of African Book Club at the Museum of the African Diaspora in San Francisco and BIPOC Writing Party, a weekly, online community formed in response to the pandemic and now BLM. I belong to the San Francisco Writers Grotto, a community of working writers and narrative artists, and The Ruby, a work and gathering space for female creatives.
What Do You Write?
I am simply dazzled by real life, which is my take on the old saying, "The truth is stranger than fiction," so my field is literary (or creative) nonfiction. Specifically, I write personal narrative that explores the relationship between the world and the individual, such as memoir, travelogue, personal essays and lyric essays about race, hybrid identity, family, im/migration, and culture. My first memoir, Meeting Faith, was based on my experience ordaining as the first Black Buddhist nun of Thailand, while My Journey Home, my PBS documentary, and my mini-memoir, The Nigerian Nordic Girl's Guide to Lady Problems (ebook and audio), both grew out of my experience growing up in a family of Finnish and Swedish immigrants and then traveling to Nigeria as an adult to find my father and siblings.
I grew up in a family of readers and storytellers, so I've been reading and writing since I was 2–1/2 years old. We were also multigenerational, multinational, multiracial, and multicultural, which is why I'm not comfortable with Western binaries of black versus white, good versus evil, or linear storytelling. I like things to be both-and: Black and white, past and present, tragedy and comedy. I think that structure is a political and aesthetic decision and the story will let you know what form it needs. As someone actively working to decolonize and widen the definition of travel writing, I make sure to avoid problematic words and phrases like authentic, exotic, foreign, primitive, tribal, jungle, weird, bizarre, strange, friendly/ happy/ curious natives, peaceful/ simple way of life, or any pun on Heart of Darkness. I also dislike the misused term "African American" for a variety of reasons.
Where Do You Write?
Like many artistic types, I'm left-handed, and writing by hand is actually painful, so I rely on my laptop. Since I'm visual, it's gotta be an Apple product. Since I like writing on trains and in coffeeshops, it's gotta be a Macbook Air, something light.
If I'm home, I connect my MBA to a desktop monitor that allows me to see two pages side by side, which I love. My tiny study has cheery, canary-yellow walls covered with clipboards. I use clipboards instead of bulletin or cork boards and have one per project. That way, I can just take the clipboard off the wall and carry it with me. I'm inspired by the world and history, so I like to surround myself with photographs, maps and timelines. And neon Post-it notes; where would I be without them?
If I want to go the opposite direction and focus deeply, I use my iPad and cordless keyboard. One of my students turned me on to ommwriter.com, an amazing app that creates full-screen text boxes set against calming, natural backgrounds. It's a whole curated environment, with pleasing fonts and calming, ambient audio that really appeals to the Buddhist in me.
When Do You Write?
I respond well to fear, so I value deadlines, and I'm a Binge Writer, storing up what I have to say and then writing like a fiend while at an artists' colony somewhere in the world. Especially if I'm tackling hard topics. If I don't have a deadline or a residency, then I trick myself by promising pages to my writing group, taking a short workshop or setting writing dates with friends. I'm not going to flake on friends or instructors like I would myself, and it adds a social component to the lonely job of writing. I always place students in affinity clusters and encourage them to support each other outside of workshop. That's why I really like the Anam Cara model of setting your goal, be it words produced, minutes spent or a finished product, being paired with an accountability buddy, and unlocking weekly rewards. I once had a writing coach send me home with an artisanal chocolate chip cookie she said I could eat only after I mailed off a book proposal. That kind of stuff totally works!
Why Do You Write?
My father's ethnic group, the Igbo, believe that the point of art is to make us human beings, to show us how to live. I agree. I believe that writing can save lives, topple governments, correct history, help make sense of the unfathomable. Whenever we're adrift, we turn to writing and art to make sense of it all. So many fascinating, shocking, heartbreaking, inspiring stories go untold; through my writing and teaching and editing, I want to create a more complex, nuanced understanding of our world and our history. That's what inspires me. If the victors pen history, then personal narrative is in fact democratic participation. I write as my civic duty, as well as for the smart, weird girl stuck in a small town reading with a flashlight under the covers.
How Do You Overcome Writer's Block?
I do a whole unit on overcoming writer's block in the Anam Cara Writing Quest. The first step is diagnosing why you're blocked — is it fear, scarcity, your inner critic? The cause will determine the cure. Something I like to do is read what I'm working on aloud before I go to bed, so that my subconscious is working on it while I sleep, and avoid social media when I wake up until I can get to my laptop.
Sometimes we shut down because of circumstances. The first few weeks of the pandemic I felt helpless and stuck. I couldn't imagine writing. I got together with a friend who was feeling the same way, and we started BIPOC Writing Party, an online weekly writing session for folks of color. Each week we'd get together and whine, "I can't think of anything, except maybe…" and we'd co-design two prompts that helped filter out all the noise and address what we were feeling and observing. Each time, folks really responded to them, and before I knew it, I had pages and pages of my own writing.
Bonus: What Do You Enjoy Doing When Not Writing?
I'm a foodie, film fanatic, cat lover and international traveler. Last year was my perfect spring and summer: After partying with family in Finland, I walked the pilgrims' trail, Camiño de Santiago de Campostela, eating my way through Portugal and Spain. I attended film festivals, including speaking in the Africa Pavilion at Cannes. I hopped on trains, looking for gorgeous places to stay and write, from a castle town in Italy to seaside villages in Croatia. I connected with strangers and babysat the coolest cat in an historic apartment in France. I came back and threw a themed dinner party. It doesn't get better than that.