A one day vacation to New York City?
Quick, overnight trips are a great option to break away from reality on a budget.

Quick, overnight trips are a great option to break away from reality on a budget. Typically these are a few hours away from home to maximize the experience away. Last December, my wife and I cashed in a handful of airline miles and hotel points to experience New York City at Christmas time for our anniversary.
---
We landed at LaGuardia just after noon on a Friday, the day of our anniversary. A dizzying hour-long Uber ride and we checked into our hotel. We dropped our bags in the room and went exploring.
Our plan for the trip was simple:
eat pizza (something we neglected to do on our first visit to NYC)
eat at Baohaus (again)
see the Rockefeller Tree and Macy's windows once the sun went down
Hungry, we did a quick search to see what pizza was available around our hotel. Two blocks away was Stage Door, which looked solid. We marched past the World Trade Center construction and found the staircase to the upstairs restaurant.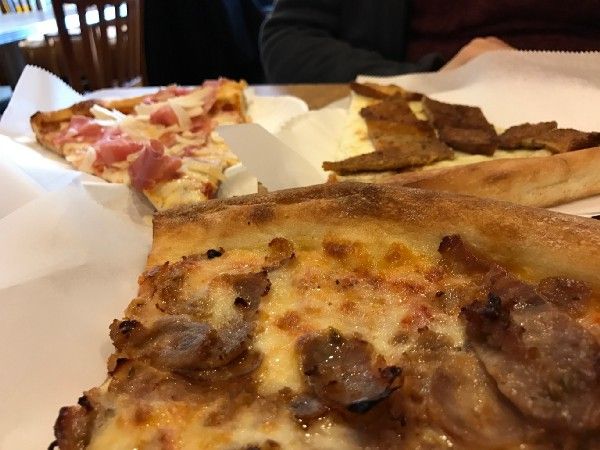 The pizza was really good. Large slices. Good flavor. Not too greasy. We tried eggplant, sausage, and prosciutto. How can you go wrong with any of those ingredients? The slices were wonderful and hot, which was the added bonus.
The day we flew up happened to be the coldest of the season. It was 18 degrees when we stepped off the plane — a far cry from the upper 60s when we left Orlando that morning. For two southerners, 18 was a big difference. I had to buy a scarf.
After the pizza warm up, we continued to explore the area around the hotel, including Brookfield Place and The Oculus. We then took the train north to Washington Square for a quaint Christmas Market. There, we purchased a piece of art to commemorate our Tokyo trip and some hot apple cider. By now, the sun was setting and the wind was picking up. Cold was getting colder. We moved to Baohaus.
---
Baohaus is owned by Eddie Huang of Fresh of the Boat fame. Except, the story told on the sitcom is not exactly the story Huang tells in his autobiography by the same name. Either way, Huang is a former Orlandoian and his food is on another level. It was the highlight from our first trip to New York and we had to return to pay respects and get our fill.
A drink at a neighboring bar later and we were sitting down to the sweet goodness that is Taiwanese-American bao. A large assortment was purchased and devoured while the 90's hip hop blasted overhead. There were sticky bao in the shape of chairs covered with fried fish, perfect pork, and tender tofu.
I'm not going to say we flew to New York City just to eat at Baohaus, but I'm not going to deny that either.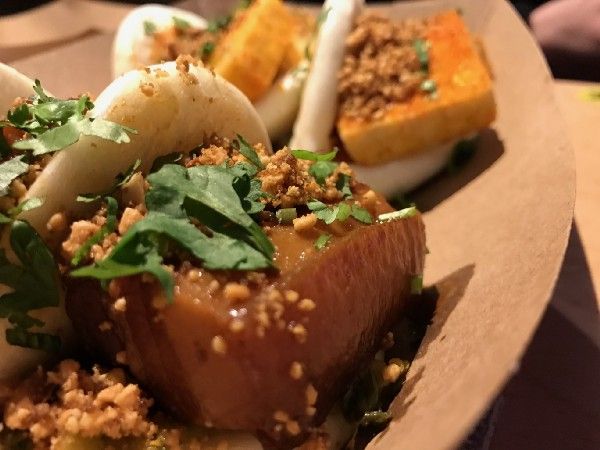 Even with the scarf, coats, thermal layers, gloves, and wool socks it was cold. We moved quickly and with purpose in the direction of Rockefeller Center. We took a detour into St. Patrick's Cathedral for a moment of warmth and to enjoy the decorations. We paused to watch the display at Saks', and then we turned the corner to experience the tree.
This was it, the raison d'État. The Rockefeller Tree was as magical as the movies depict. Sub-freezing temperatures seemed to heighten the experience of the indescribably tall tree covered entirely in lights.
Bathed in the lights of the tree, everyone was happy. Strangers were taking pictures for strangers. There were smiles all around. Even the police officers wearing combat gear and holding long rifles had a taste of Christmas cheer.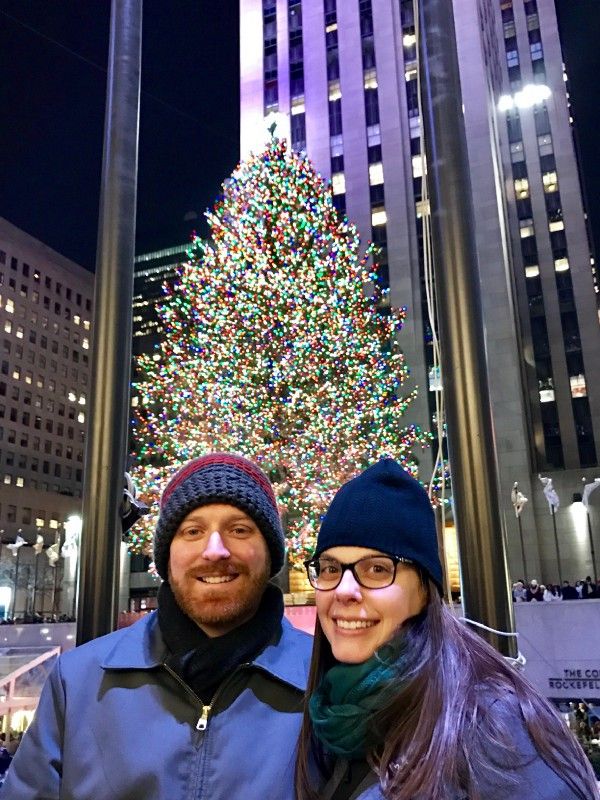 We hung around for about 30 minutes until our faces were rosy from joy — or frostbite, I don't really know. It was time to head toward Macy's to see the famous windows.
We walked a few blocks in the freezing temperature only to discover we were walking in the wrong direction. Rookie mistake. We turned around and waved at the Rockefeller Tree again, this time pretty sure we were moving toward Macy's. We took a detour into a tacky Christmas store off Times Square to shop, which was code for "finding somewhere with heat."
When we finally found Macy's, the windows were nice. Were they worth the walk there? Probably not. Though the irony of a homeless person sitting underneath a giant window titled "Generosity" was not lost on me. A few minutes of shopping in Macy's and we made our way to the subway to return to the hotel. Warmth and an anniversary gift of champagne and chocolate covered strawberries greeted us upon our return.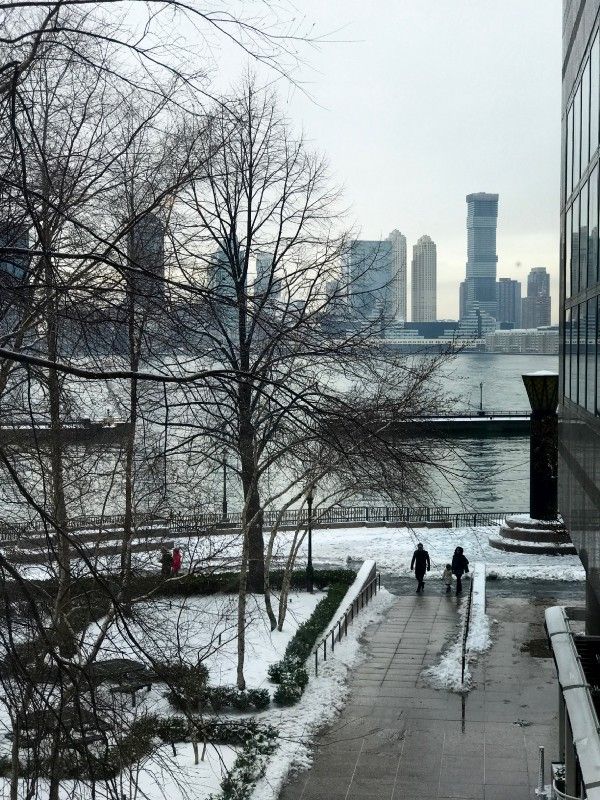 The next morning we awoke to roughly four inches of snow on the ground. We were moderately prepared for the cold, but snow was a different story. Breakfast was consumed in the restaurant downstairs and then we watched Hotel For Dogs in the room before checking out. What else do you do when it snows?
We took the train to Newark and experienced a kid avoiding the conductor to avoid paying for the trip. It was just like you see it on TV: the kid waited at the front of the train for the conductor to come in the back. As the conductor checked tickets from back to front, the kid moved upstairs and circled around behind the conductor. That same kid then provided to enlighten the entire train car about the benefits of sleeping with blonde Russians. Granted, we didn't have a choice in learning this, as his phone conversation was louder than it should have been. There were also threats about "being disrespected" and the request to "meet me at the train station and say that again." This was the most "New York" thing that could have happened on our short visit.
---
An overnight trip that involves a connecting flight is a little nuts. If we were paying for flights and hotels, this would have been well past the point of sanity. In total, we spent less than $300 for food, trains, and gifts. For an anniversary trip to New York City, I'll mark that one in the win column.