130 Year Old Sushi in Tokyo
Dining with Japanese celebrities was only part of the excitement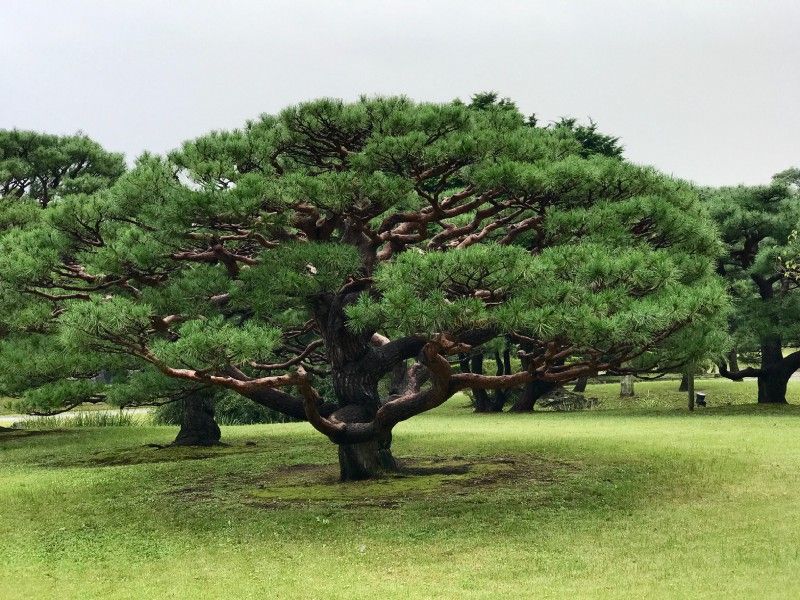 On a side street in Ginza — Tokyo's wealthiest district — just around the corner from a supercar gallery is Sushiko Honten's modest store front. We enter to a small sushi counter that is full of patrons. The light-wood interior is equally modest given the high-end neighborhood.
Sushiko Honten is Tokyo's second-oldest sushi establishment. The restaurant first opened its doors in 1882, 100 years before I was born.
My wife and I have arrived for an omakase experience. Omakase translates roughly to "chef's choice" and means the chef will prepare a meal of their desire. Omakase experiences typically run ¥25,000 ($250) and up — a steep price to pay for a dinner, but one that will be remembered for a lifetime.
The hostess finds our reservation and leads us upstairs to an identical second counter. This one is only occupied by a single family with two small kids and what appears to be their nanny.
The counter is staffed with three sushi chefs who speak a few words in English to welcome us. A team of staff members take our coats, fill drinks, and provide hot towels. Japanese hospitality is truly extraordinary.
We politely converse with the chefs through language barriers while they make preparations for our meal. The head chef, Mamoru Sugiyama, attends to the final courses of the family's meal. His assistant check, who has been serving patrons at Sushiko Honten for thirty years, begins our meal service.
Sushi in Japan is not like sushi in the states. Instead of rolls, Japanese sushi is closer to what Americans call nigiri — a piece of fish on a bed of rice. I'm not a huge fan of nigiri. I prefer my sushi cooked and, when possible, tempura'ed. My wife loves nigiriand this experience is for her. I hope against hope that I enjoy every minute of the raw meal to follow.
First Course
We're presented with an starter plate of tuna, abalone, and mackerel. I turn that part of my brain that screams "raw fish" off and dive right in. The tuna is sweet, the abalone a little tough but enjoyable, the mackerel light and flavorful. We're off to a good start.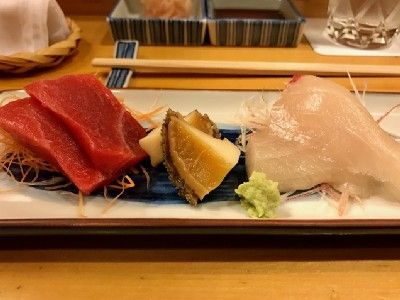 Second Course
The chef calls this crab salad. It's delicious. Buttery. I could eat it by the gallon if I were allowed.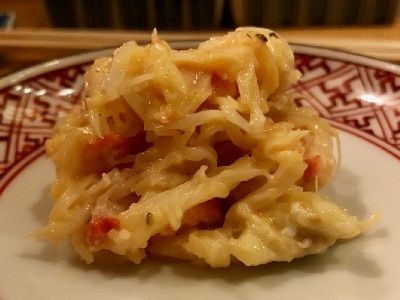 Third Course
This is, as the chef aptly describes, "shrimp with baby shrimp." It's served chilled and has a sharp, liquid texture. It's wonderful. The small amount of wasabi atop the larger shrimp provides a slight, pleasant bite.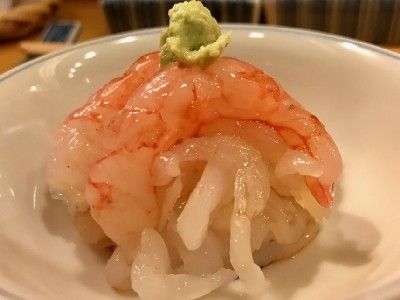 Fourth Course
Grilled tuna and swordfish. The grilled tuna is the single greatest piece of fish I have ever eaten. Possibly even the single greatest piece of meat ever to enter my mouth. The morsel literally melts as soon as it hits my tongue. It's downright decadent.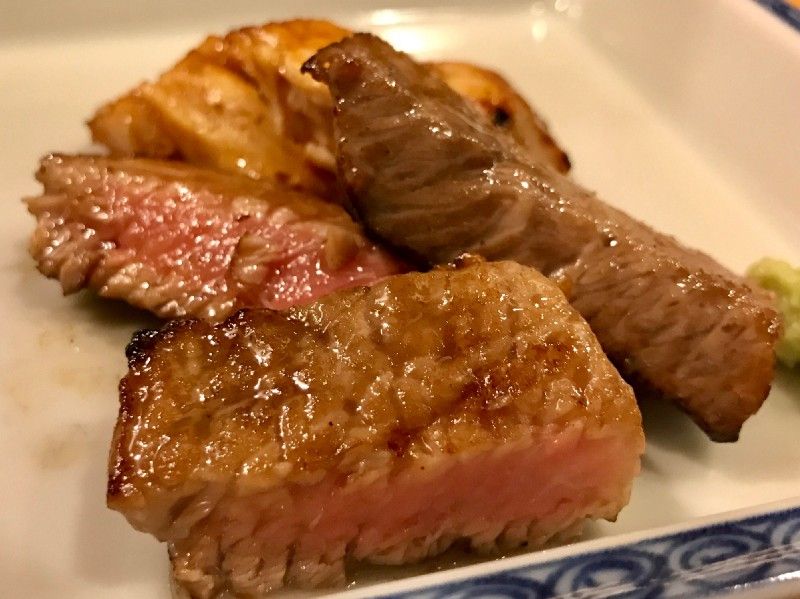 Fifth Course
We're presented a bowl of minced radish with a small amount of soy. The radish has a strong, acidic flavor that I find enjoyable but my wife finds too pungent. This is a palate cleanser that completes the appetizer portion of the meal. We're onto the sushi courses.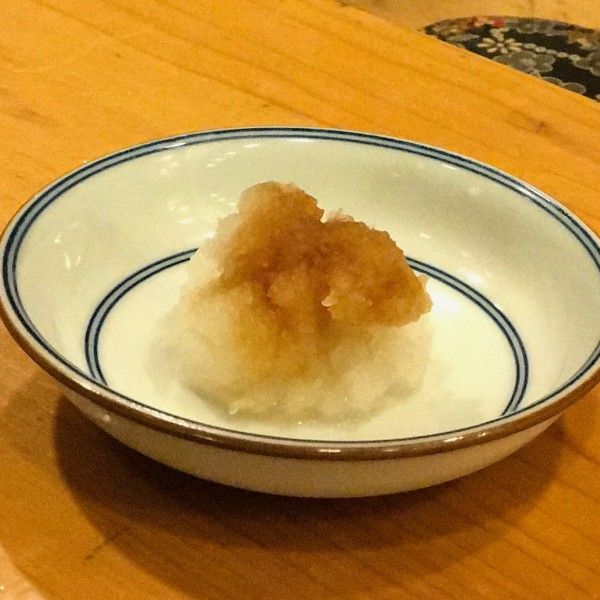 Sixth Course
The first sushi course arrives and the chef tries to tell me what it is, but he cannot come up with the English word. He grabs an apprentice from the kitchen who speaks a bit more English, but also can not come up with the correct word. We're truly lost in translation. In all of this commotion, I forget to photograph the piece.
The whitefish is served, as all of the next few courses will be, on top a bed of perfectly formed rice with a small dab of wasabi and just a touch of soy. The complete bite is light and flavorful.
As I finish the piece, the apprentice comes back with a large, coffee-table book about fish and points to a picture of a flounder.
The family at the other end of the counter pays their bill and bows to the chefs and then to us as they depart the small room. After they leave, the chef informs us that they are "very famous" Japanese movie stars and regular customers.
My wife and I are dining in a private room at a 130-year old sushi restaurant with Japanese movie stars. This is a surreal evening.
Seventh Course
The first tuna course is large and amazing. It is such a bright red color that the picture doesn't do proper justice. Despite being the largest piece of raw fish ever to enter my mouth, it's full of flavor and smooth in texture. My preconceived notions aside, it's not slimy or smelly and is a wonderful piece of food.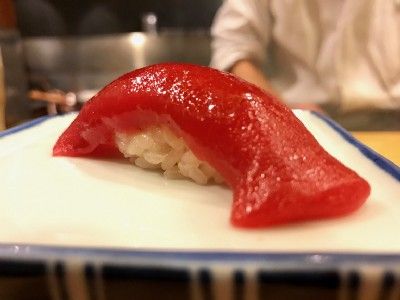 Eighth Course
The second tuna course is the fattier, belly tuna. This is even better than the first. A little chewier, but with a richer flavor.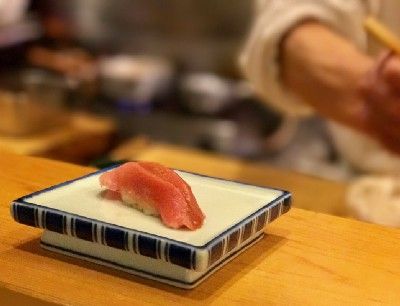 Ninth Course
The third tuna course is a yellowfin. This piece is good, but sends a signal to my brain signaling that I'm eating raw fish. I don't know if it's a smell that I pick up, the slightly rougher texture, or something tucked in the back of my subconscious, but alarm bells start to ring and my mental defenses weaken. I push through the very subtle gag reflex and and enjoy the delicious fish.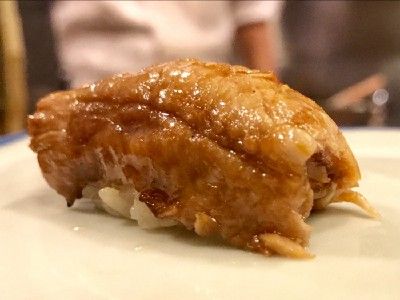 Tenth Course
I've been doing well so far, but this is something else entirely. This is horse mackerel and it's freaking huge. How am I going to politely eat this in one bite? I put the over-large piece into my mouth and immediately regret the decision. The horse mackerel is chewy and way too big. The flavor isn't bad but it's also not my favorite. I take a little longer to finish this piece, deliberately chewing and forcing myself to swallow. I drink some water, ask for a refill, and let the queasiness subside.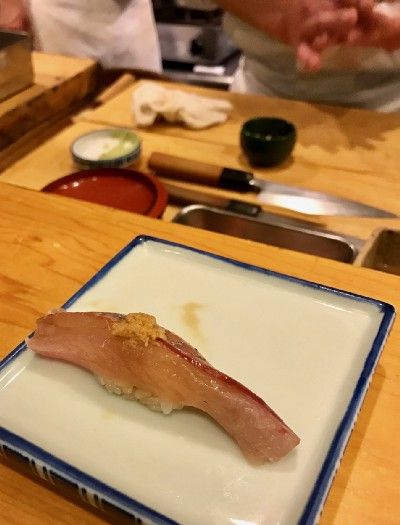 Eleventh Course
The uni course. My brain cannot handle it and I explain to the chef that I mean no disrespect but I'm going to sit this course out. My wife, on the other hand, scoops up her uni and devours it.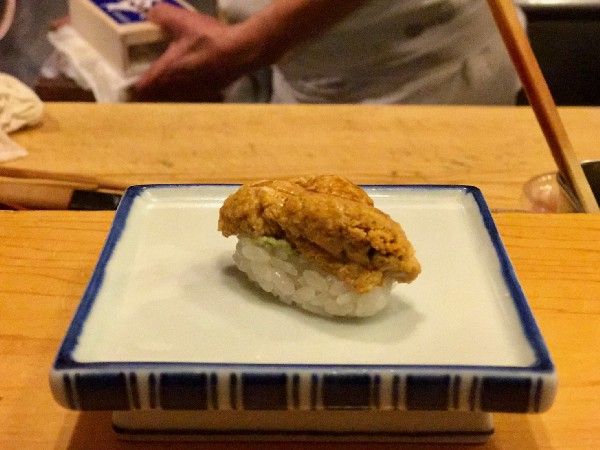 Twelfth Course
I'm presented with a beautiful nori basket of salmon roe. The little pods popping in my teeth unleash a cool, salty flavor that is delightful and bizarre. They help take my mind off the horse mackerel.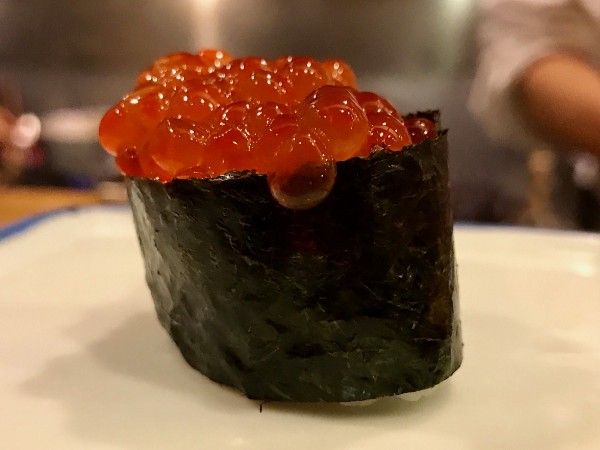 Thirteenth Course
These are two of the largest shrimp I've ever seen, served cold, and dabbed with just a hint of soy. The shrimp snap in my teeth and are firm and meaty.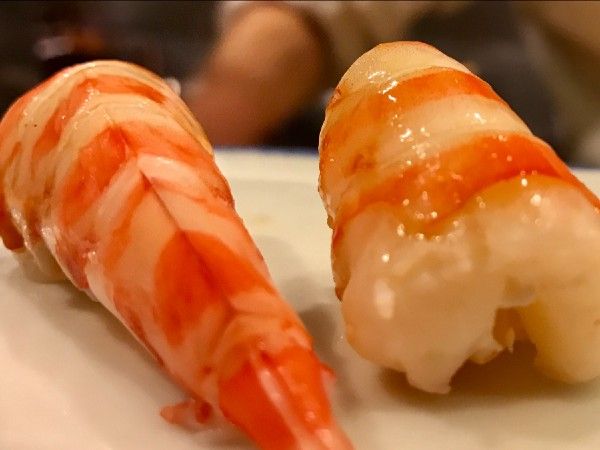 Fourteenth Course
The chef presents us a plate of baby mackerel, complete with skin. My brain tries to revolt — another mackerel. This time it has skin. I tell my brain to shut up and stick the fish in my mouth. I struggle with every movement of my jaw but force myself to swallow and chase with a good amount of water.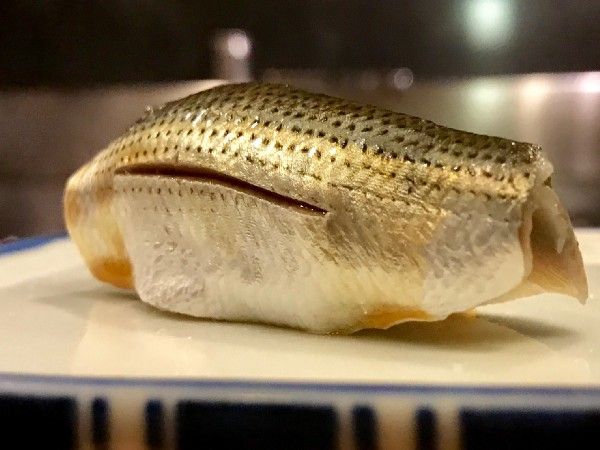 My brain's consistent "you're eating what?" signals begin to compete with my stomach's "you're still eating?" petitions. I wonder just how much longer this meal will last. These internal strifes must manifest on my face because the chef provides hot tea "for digestion." I thank him and try to explain that I am getting full. "Two more courses," he announces. I smile and nod in agreement.
Fifteenth Course
We're presented with a course of shiitake mushroom. This is not your typical sushi and is a wonderful break from the multiple fish courses. The shiitake is dense and meaty with a wonderful earthen flavor. It's surprisingly filling.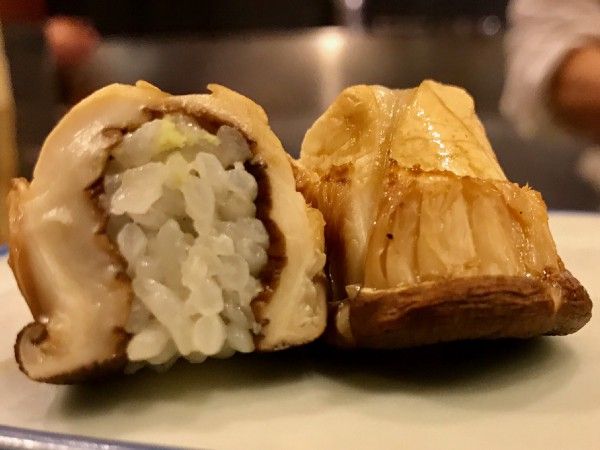 Sixteenth Course
Grilled eel. Even though my stomach is about to burst and my back is feeling the weight of sitting on a stool for the last two-plus hours, this is the perfect final course. I could eat a stable diet of nothing but grilled eel and be ok. The eel is smokey and sweet and pairs perfectly with the rice and wasabi.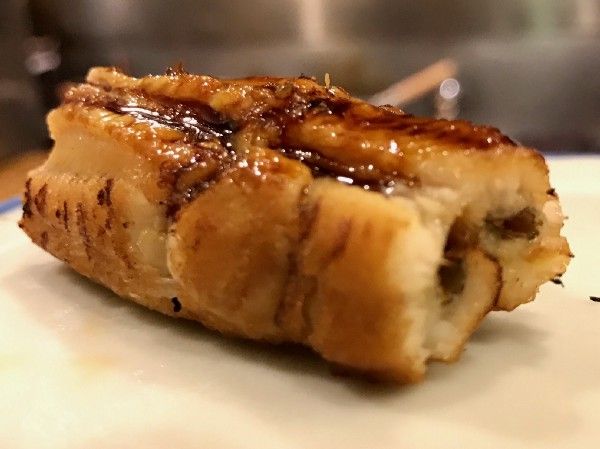 At this point we literally could not eat another bite even if we wanted to. We show our appreciation to the chef and his team, pay our bill, and wander back onto the streets of Tokyo.
Humble wood again becomes glitz and wealth. We walk back towards our hotel full and happy, just as patrons have been doing for over 130 years.
A version of this article also appeared on Medium.