Lost in Vermont
Is this Stars Hollow?

Living in Florida, our seasons consist of summer and slightly cooler summer. Fall is when the humidity drops low enough to open a window. This usually occurs sometime in November.
Carla is from Northern Virginia. She grew up experiencing colorful leaves and brisk air. Five years of endless summer in Florida, while nice, began to weigh on Carla. She proclaimed it time to experience autumn.
Burlington was selected at random. It seemed as good a place as any to see colorful leaves. To date, I hadn't fully experienced autumn. Flying across the country to see leaves didn't exactly excite me, but Burlington's proximity to Montreal and the Ben and Jerry's headquarters convinced me it would be worth the trip.
We landed in Burlington and drove up to Montreal for the weekend. After fulfilling my desire to be in a major city, we drove the hour and a half back to Burlington. Sitting in traffic at the border, Carla discovered a fall festival in Stowe — a town just east of Burlington. That became our target for the day.
There was just one small problem: the festival was impossible to find. Stowe is not a large place. It's known for ski lodges on the outskirts of town. A small downtown area had banners for the Methodist church's chicken dinner and the Stowe Fall Festival.
We drove around the small town three times. Each time we passed under the festival banner the traffic increased. People were in town from all over to see leaves and experience the season. Patience was running thin.
No matter how many roads we drove down, we could not find the one that led to the festival. It simply did not exist. Turning down a road leaving Stowe, we did stumbled upon the weekly Stowe Farmer's Market. Since the Festival was nowhere to be found, we parked at a nearby synagogue and walked across the street.
The Stowe Farmer's Market is a scene right out of Gilmore Girls. The market was compact and circled around a small stage where a local band played folk music. I half expected to see Taylor come out between songs to talk about raising money for a historical bridge.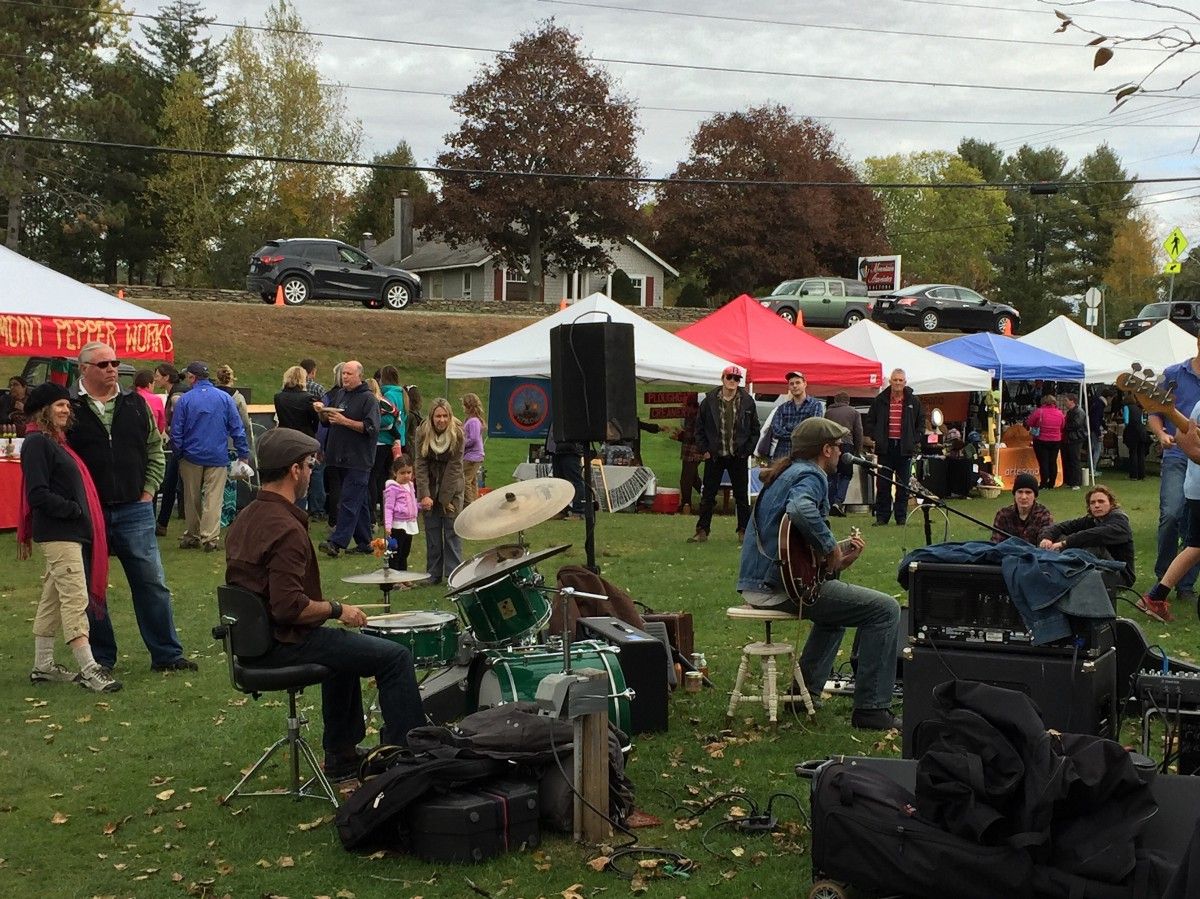 The Stowe Farmer's Market had local artisans and food vendors. A woman selling amazing brick-fire pizza gave me a business card and offered to cater an events I had coming up. I explained it'd be a long drive down to Florida.
At stand next to the band, a man pressed apples to make pure apple juice. He placed apples into a cast-iron meat grinder attached to his table. The apple meal extruded from the grinder was collected and placed in a leather press. As he cranked the metal wheel, the press pushed the juice out of the apple meal directly into mason jars. We gave him $5 and he gave us a jar of the most wonderful apple juice imaginable.
In talking with a local glassblower, we discovered the advertised Fall Festival is for tourists coming to experience fall. The vendors are all travelers that chase fairs and festivals across the Northeast. The weekly Stowe Farmer's Market is the place for locals. The Farmer's Market wasn't for us, yet we were welcomed all the same.
I once heard travel writer Samantha Brown explain that upon arriving in a new place, she intentionally gets lost. She wants to experience her destination without guides or books or directions. In getting lost, Brown's goal is to experience the place uninhibited.
While completely unintentional, Carla and I experienced the Stowe Farmer's Market free from expectation. This delightful experience set the tone for the rest of our time in Burlington. Without agenda, we drove around northern Vermont stoping anywhere that drew interest.
I'm glad Carla dragged me up north to experience autumn. Without real planning, we experienced the colors of autumn that simply aren't possible in Florida. We spent a few days lost in Vermont and it was one of the best vacations we've had in years.