Write Now with Jonathan Littman & Susanna Camp
How this writing duo worked together to empower entrepreneurs around the world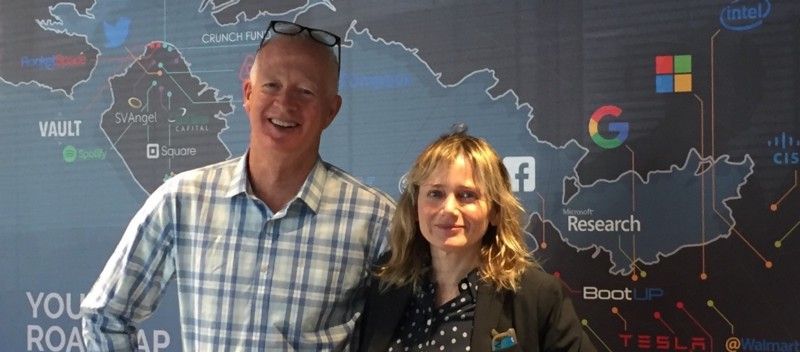 This week is a rare two-person interview for Write Now. Jonathan Littman and Susanna Camp work together as consultants and co-wrote The Entrepreneur's Faces: How Makers, Visionaries and Outsiders Succeed. Jon looks at his writing career as a series of adventures. We should all look at our lives as a series of adventures, trying to learn as much as possible.
---
Who Are You?
We're Jonathan Littman & Susanna Camp, a Silicon Valley-based writing team who recently co-authored The Entrepreneur's Faces: How Makers, Visionaries and Outsiders Succeed — Jon's tenth book and Susanna's first. We also write articles together for our innovation website SmartUp.life, work as consultants ghostwriting thought leadership pieces for CEOs, co-teach an entrepreneurship class at the University of San Francisco, lead workshops together for clients around the world, and each do our own separate freelance projects.
What Do You Write?
Jon: I got my start as a tech journalist, then quit my job when I found a story big enough for a book. The Entrepreneur's Faces is my tenth book. It's all about discovering your archetype and the power of self-awareness. I am a hybrid of two types, the Athlete and the Outsider. What does this mean? I love challenges, deadlines and discovery. Friends have described me as a chameleon, especially when I throw myself into a new book or big article.
I wrote two popular, narrative crime books about notorious computer hackers and collaborated with IDEO on two international bestsellers on innovation (published in a dozen countries). I had a wonderful six-year gig writing wild sports stories for Playboy (sports ticket hustlers, The Masters golf tournament, Barry Bonds and steroids). Lately I'm inspired by entrepreneurs. They combine the ingenuity of hackers with the drive of elite athletes. Non-fiction narrative writing is my specialty. My aim is to become fluent in Portuguese and live part of the year in Portugal. I am finding (to my delight) that learning a new language is improving my writing. And yes, I love crafting words, and collaborating with creative, smart people. That's always a great day!
Susanna: I write just about anything. My career has included journalism, profiles of entrepreneurs, my master's thesis in education, technical writing, direct mail campaigns, promotional teasers, game reviews, annual reports, and most recently, instructional design lesson plans. And of course our new book! Since working with Jon I've come to appreciate the power of great storytelling. The Evangelist is the type in our book The Entrepreneur's Faces who knows how to move hearts and minds, inspiring others with strategic narrative. My aspiration is to embody this type more fluidly.
Where Do You Write?
Jon: I have a method to tackle the most creative parts of writing a story or chapter. Especially beginnings, which are so critical. I think free-form about the story the night before without taking any notes. Then in the morning I may go for a stand up paddle on the water, or a long hike. I don't rush it. The words come about fifteen minutes after I start sweating and get an endorphin rush. It feels like magic. After about an hour of exercise, I step off the water or finish the hike and have the whole first paragraph and a confidence in what comes next.
Editing requires another approach. When writing a book I print out a few pages or a chapter and go for a walk in the neighborhood, pen in hand. So much easier to let go of unnecessary words and phrases. You suddenly see new ways to order ideas. Writing to me is about motion and energy, and it makes sense that I am more in tune with that energy (or lack) when I am also moving. As for tools, I love my MacBook Pro for drafts. Pencil in hand for paper edits puts me in the mindset of a craftsman. I read phrasing outloud to get a sense of rhythm. If it sounds good, it usually reads well too.
Susanna: I write in my head, when I'm out trail running or lap swimming. Jon and I regularly schedule walks together to talk about new projects, craft new angles to works in progress, and catch each other up on the big ideas. I'll often use my Sony pocket audio recorder to get things out of my head quickly, then upload the file to an AI transcription service (I recommend Temi.com), so my thoughts appear almost instantly in writing. In a pinch, I'll dictate to Siri on my iPhone to write a note. I also have notebooks, index cards, scraps of paper for those stray thoughts. But it all comes together on my trusty 12" MacBook Air. It's small, slim, and light, and travels well!
When Do You Write?
Jon: I mentioned my entrepreneurial archetype is the Athlete. I was a sprinter and then an elite college soccer player. I believe in bursts of writing and the power of interval training. In other words, I may write intensely for 40 minutes early in the morning. Then exercise for an hour or more. After that, I'll write at a more measured pace for 2+ hours. Quality, not time or word count is my goal. Indeed, less can be more. Generally I do much more editing and revision in the afternoon. Long ago, I learned to call it quits at 5pm or so. Relax. Watch something entertaining. Read. Let it go.
Susanna: I write and rewrite at all times of the day, whenever I can get uninterrupted time to myself. Alone time is critical for me, as I feel I'm always building a web of thoughts, with tangents and connectors that require focus. Barring this, I'll put my headphones in and block everything else out with ambient electronic music. After I've composed my thoughts into words, I'll often work on revisions while I'm out running or swimming, and also in the middle of the night. That's why I always keep a notebook by the bed.
Why Do You Write?
Jon: I love discovering and then writing about new worlds, and a lot of my career has been a series of adventures, diving into the underground realm of computer hackers, recounting dark crime stories, dancing on the edge of elite sports, and more recently, profiling entrepreneurs and tremendously creative people, the incredibly talented men and women who dream up new products and experiences. These days I always want to understand someone's entrepreneurial type and where they stand on what we call the arc of entrepreneurship.
The author Malcolm Gladwell talks about 10,000 hours. I'm pretty sure I've interviewed ten thousand people — and I almost always learn something new. The process of interviewing so many people, of talking and mixing with new voices, fuels my writing.
Susanna: Telling other people's stories is a great way to give back. Much like the Guardian, the entrepreneurial type in our book who sets out on a mission to improve others' lives, I start with empathy. I know how hard it can be for most people to tell their own story clearly and effectively, so I strive to be a conduit for their voice and help frame their narrative so it gets out to the world.
How Do You Overcome Writer's Block?
Jon: I don't believe in writer's block. The concept assumes that it should always flow (which doesn't really happen for artists, musicians, dancers, athletes). It assumes that there's something wrong when the words don't fly off your fingers. Not every day will be the same. So what do I do when it's not flowing. Your story or book may have ten parts or ten chapters. When it's slow going in chapter 4, why not rough out part of 5 or 6? Read. Go for a walk. Edit. The Maker archetype believes in the power of many iterations. They learn from what seem to be failures — we call that "flearning." Sometimes you just need to write some less-than-scintillating prose to hit a rhythm. In the end, no one really cares if it took a hundred drafts or if you threw out an entire manuscript before finding your voice. Being nice to yourself helps too. Great writers get better every day because they work through the troughs to reach higher ground.
Susanna: Just as co-founders lean on and fill in for each other, Jon and I are able to keep all of our projects humming because when one of us is writing, the other is editing. And then we'll reverse the roles, ad infinitum. There's always something to work on, so if the task at hand isn't flowing, switch it up!
Bonus: What Do You Enjoy Doing When Not Writing?
Jon: Learning Portuguese. Cross-country skiing. Paddle boarding. Collaborating and leading innovation workshops.
Susanna: I've always been a reader. My mother, who used to read about two or three books a week, taught me early on how to escape into books — with the added benefit of expanding one's vocabulary to become a better writer. I read a lot of science fiction. I love the work of William Gibson and Neal Stephenson, and am currently reading Cixin Liu's Three Body Problem trilogy. I find this genre combines cutting-edge technology with futuristic scenario planning, and the emotional hooks of storytelling. Science fiction authors are a lot like entrepreneurs. They need to have the skills of the "Visionary" (one of the archetypes in our book) in creating a fantastical world that builds on present realities, and the "Evangelist" archetype who tells a story that converts early adopters to their cause.
A version of this article also appeared on Medium.