Write Now with Barry Eisenberg
Are you able to write 20 page per day?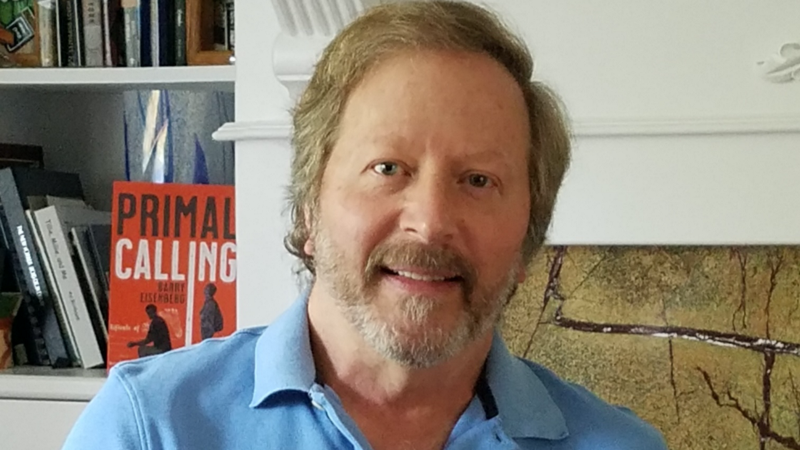 When it comes to writing, Barry Eisenberg takes inspiration from Jim Lehrer. His goal? 20 pages a day. 20 pages! Talk about prolific. I have a 500 a day word goal. 20 pages would increase that goal 40x. Can you write 20 pages a day?
---
Who Are You?
My name is Barry Eisenberg. I am an associate professor at the State University of New York and a health care consultant, and I live in central New Jersey. I just published my first novel, Primal Calling, a story about a young man's journey to find the father he never knew and, in so doing, discovers himself. What started as a short story turned into a full-length novel, and I have been bitten by the proverbial writing bug. I'm currently at work on a new novel, which is very different from Primal Calling. It is about the challenges a family faces as an aging parent becomes unable to live independently, a topic I've written about in The New York Times.
What Do You Write?
I have always loved writing. The majority of my writing focuses on health care management as well as the direction of higher education. I have even written articles about how these two seemingly disparate fields are related and what lessons each can learn from the other. Writing fiction was a somewhat buried desire, but it was recently unearthed by chance. I heard a snippet of a story on the radio about a young man who became driven to find a father he never met. I thought this would be a good basis for a work of fiction, ultimately becoming my first novel, Primal Calling. Having worked in health care for the entirety of my professional career, I have always been taken by the courage of those who must dig deep as they cope with serious illness. I was able to pull from those stories when writing Primal Calling, which, at its heart, is about facing and overcoming a major life challenge.
Where Do You Write?
Some colleagues tell me they write best with soft music playing in the background. Others say they feel most capable when they sit outdoors. Neither of these work for me. I find I need absolute quiet and I work best in a confined space. My home office fits the bill. I write on my PC or laptop, although when not writing, I use my phone or tablet to record any ideas that jump into my head.
When Do You Write?
Several years ago, I heard an interview with the late journalist and writer Jim Lehrer, who was incredibly prolific and productive. The interviewer asked about his writing sessions and he replied that he commits to writing 20 pages each day, starting very early in the morning. He also said that he had no idea what those 20 pages would contain, that the ideas would unfold and take shape as he wrote. This resonated, helping me to appreciate that a flow will emerge and not to feel locked into an outcome. I find that, for me, the process of writing fiction differs greatly from nonfiction. When writing fiction, I'm at my best if I start early in the morning, usually no later than 7 am. I don't have particular time, word, or page goals, but I do feel compelled to finish even a rough sketch of a chapter to get a sense of closure for that session. Writing nonfiction is guided by an entirely different process. The objectives are established at the outset, so I'll have a reasonably clear idea about what the work will look like when it's complete.
Why Do You Write?
Having worked in health care my entire adult life, formerly as a hospital executive and currently as an associate professor of health care and consultant, I have been inspired by the countless people I've met who face life and death situations. I have learned so much from them — about courage, tenacity, fear, vulnerability, love, and grace. While the characters in my novel do not confront a health issue, they do find themselves in extraordinary circumstances that test their ability to persevere and think about who they are and want to be. Trying to understand that not only motivates me to write but helps me to grow as a person.
How Do You Overcome Writer's Block?
Because of the nature of my work, I have always had deadlines. In retrospect, this has been quite helpful, relieving me of the responsibility for creating self-imposed timeframes. When writing fiction, I have found what helps if I hit an impasse is not plowing ahead, but rather, stepping away for a quick break, like taking my dog, Dolan, for a walk. I've noticed that he starts eyeing his leash when the keyboard clicking stops. Fortunately for Dolan, I have yet to experience a sustained period of writer's block — he likes his quiet time to sleep.
Bonus: What Do You Enjoy Doing When Not Writing?
Spending time with my family is something I treasure. My wife, Amy, and I are musical theater nerds and share this love with all three of our grown children and their partners. We really look forward to taking our grandson to his first musical as soon as he is old enough. We enjoy hiking along the many beautiful trails in New Jersey. We also enjoy taking cooking classes and later practicing (and occasionally ruining) what we've learned. Travelling to and learning about other countries and cultures is also something we relish. For close to thirty years, I have been bicycle-riding with a group of close friends. This group has become something of a support group for one another as well as just a fun bunch of guys who enjoy being together. Among the most peaceful and joyful things I do is caring for and riding Flash, our rescue Thoroughbred.