Write Now with Eric Smith
How an author and literary agent champions inclusive stories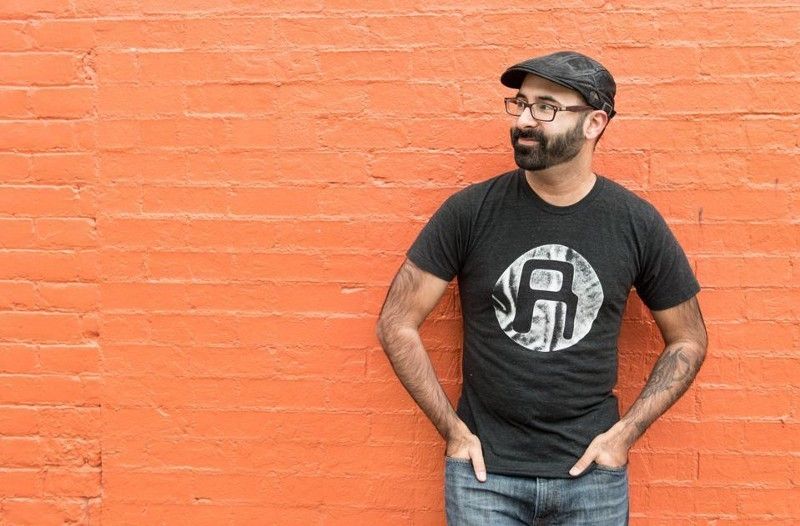 Who Are You?
Hey there! I'm Eric Smith. I'm a literary agent with P.S. Literary and an author of Young Adult books. I'm based out of Philadelphia but grew up in Elizabeth, New Jersey. In my agent life, I work on a bit of everything, but as an author, I'm mostly in the YA space.
What Do You Write?
I write Young Adult books that are contemporary and blend a little bit of magic or sci-fi into them. The Girl and the Grove is a YA contemporary novel about an adoptee who discovers she maybe has a magical origin story in a city park, while Don't Read the Comments is about two teens who meet in a sci-fi video game that maybe is a little too high tech to exist just yet.
I feel like I started writing the way most writers do, when I was a little kid. I fussed over awful short stories on an electric typewriter my parents bought me and ended up really taking it seriously in graduate school. My first book, The Geek's Guide to Dating, published in 2013, and I'd go on to write novels after that.
As for things I like to avoid… that's tough. I like to avoid stories that don't have a sense of hope in them, I suppose. In my books and stories, no matter how rough things might be, there's always a feeling like the characters are going to be okay. That there's a silver lining. The world is a scary place. I want to feel like we're going to make it, together.
Where Do You Write?
Sigh. I feel like this has changed so much for me and so many other people in the last few months, right? I'm absolutely one of the cliche "I'm gonna sit in my favorite coffee shop, eat breakfast and lunch here, and write a few thousand words" kind of person. I like a lot of voices, lots of music, just lots of buzzing energy in the air. It's why usually, I work in a coworking space here in Philadelphia, Indy Hall.
But these days, I've got a little nook in my hallway upstairs, where I keep my Google Chat open and my pop-punk tunes playing loud. I find ways to have my people around me, even when we can't be there in person.
Tools wise, I'm boring. A lot of my friends live by Scrivner, but I just use Microsoft Word and… that's it. Also, a fine collection of Post It Notes that I leave for myself all over my walls as I work. Notes to self to go back and fix something, ideas I've gotten last-minute, stuff like that.
When Do You Write?
A typical writing session varies for me. Sometimes it's early in the morning, before my toddler wakes up, other times it's later in the afternoon after I've wrapped up all my work. I don't really give myself time limits or word count goals, it's just a matter of finding that time and using it the best I can.
Why Do You Write?
I'm a Scorpio, so I think I've driven out of spite and vengeance? Okay no, but really, maybe a little bit. I write for the kids who grew up like me not really seeing themselves in the stories in their library. I try my best to write diverse and inclusive books that reflect the world around me.
I'm fueled by my friends and family, and I'm motivated by my son. If he doesn't grow up seeing himself in the books I've created, and for that matter, the stories I champion in my day job, I've failed him. And if there's one thing I refuse to do in this life, it's fail that sweet boy.
How Do You Overcome Writer's Block?
I try to remember the things that make me want to write in the first place. So I'll surround myself with those friends, spend time with my kiddo and family. And when I'm just wildly burnt out, I remember to refill the well and take time away from my writing. So that means finding a new TV series to devour all at once, or a new video game to play (on Easy Mode, thank you), til I'm ready to hit the page again.
Bonus: What Do You Enjoy Doing When Not Writing?
I feel like I hinted at all of them in this, oops! But it's spending time with my kiddo, my family and friends. Play a lot of video games (I play a little bit almost every night before I go to sleep), watch bad movies. I get so excited whenever there's a new episode of the podcast How Did This Get Made?, so I can watch the bad movie and listen to the podcast while cooking. Oh! And cooking. I like fussing in my kitchen and over my garden in my yard.