Write Now with Sarah Knight
How The Life-Changing Magic of Not Giving a Fuck went from an idea to a bestselling series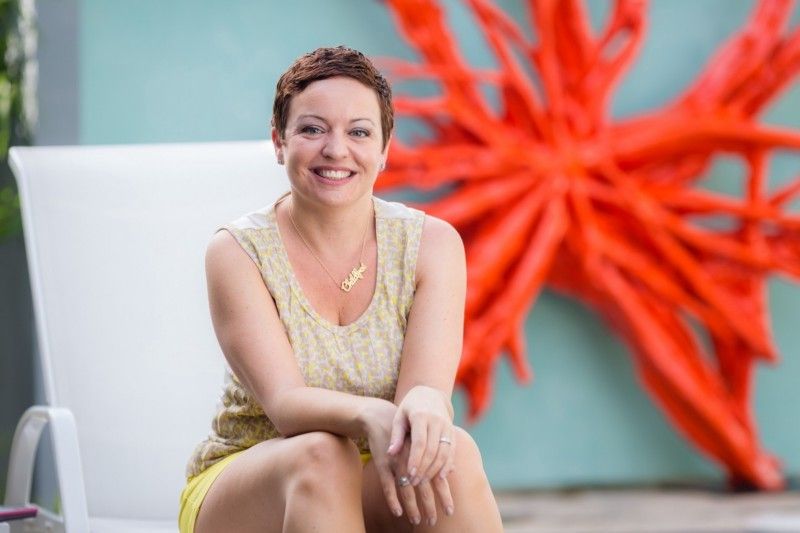 Who Are You?
I'm Sarah Knight, author of the No Fucks Given Guides. I left Brooklyn in 2016 and now live in the Dominican Republic with my husband and two feral garden cats named Gladys and Mister Stussy.
What Do You Write?
I describe my books as "advice for people who hate being told what to do." I wrote the first in the series, The Life-Changing Magic of Not Giving a Fuck, after I'd quit my fifteen-year career as a book editor to go freelance (also as an editor). Six months later it turned out that I was a published author myself, and because the series took off I haven't actually had time to take on a freelance editorial job in a few years.
I also write magazine articles on topics similar to the themes covered in my books, such as mental health, anxiety, and self-care. And I maintain a Medium accountwhere I occasionally publish random humor pieces and advice more specific to writers, as well as a No Fucks Given Newsletter that, come to think of it, I should be sending out soon.
As long as it's pertinent to the advice I'm giving or the personal stories I tell to illustrate my points, there's not much I shy away from. I mean, obviously I curse like a sailor, but I also write vulnerably about my own life — such as about my history with anxiety and eating disorders, and not having children — and I'm always happy to dig into thorny, sometimes controversial topics. In the books I wrote since Trump was elected, I seem to have made a lot of political jokes. I occasionally get hate emails over those, but as is probably obvious, I don't give a fuck.
One thing I have been trying to focus on improving with each book is being more inclusive, keeping in mind that people of all genders and sexualities and from all racial, ethnic, religious, and socioeconomic backgrounds are reading them and need to be able to relate to and see themselves in my examples. I've also started paying closer attention to my language with regard to gender inclusivity, using they/their pronouns almost exclusively in the newest book, and I keep trying to be more thoughtful about my jokes and consider whether the punchline could be unnecessarily hurtful, offensive, or come from a place of naiveté or privilege on my part. (I don't mind offending people by calling them out on their choices, but I've been trying to stay away from poking idle fun at flaws and other things people don't necessarily have control over. I'm not perfect, but I'm trying to get better.)
I love this new phase in my career, but the schedule — five books and two journals in four years, with more to come — has been punishing. I have a lot more sympathy now for my old authors back when I was an editor! I wrote an essay for Medium about this way back when I published my first book, and it's all still true.
Where Do You Write?
I tend to move around the house because I feel like I need to shake up my environment a little every once in a while. (That said, I wrote my second book, Get Your Shit Together, in dozens of different locations because we were nomads that year, and it was not an experience I wish to replicate.)
I use an HP Spectre laptop that I'm going to have to return the next time I'm in the US because it has a habit of overheating and turning off at inopportune moments, and I usually write in one of three places: outside on my dining table so I can look at my garden and my pool, which makes me happy; if it's too hot outside, sometimes I work cross-legged on my couch under the fan; then sometimes I retreat to the back bedroom which I've dubbed "mi oficina" and which has air conditioning. The last month or so of my new book, Fuck No!, was written from there because it turns out that it is VERY HOT in the Dominican Republic in September.
I use Microsoft Word, and I always have yellow square Post-It Notes stuck to my desk or laptop reminding me to do certain things the next time I open the manuscript file. (And I send myself way too many insomniac emails, only 10% of which turn out to be useful in the harsh light of day.) I love to yank the Post-Its off at the end of the day or week, crumple them, and throw them away. It makes me feel very accomplished.
When I'm ready to self-edit, I print out the manuscript and go at it with a yellow mechanical pencil. It's how I learned how to "be an editor" from my early bosses in publishing, and it's how I'll always do it, because I am a creature of habit. Also, I loathe Track Changes.
When Do You Write?
Because each of my books has been published on a really tight timeline (read: WAY TOO TIGHT), I've had to be extremely disciplined about my writing time. My publishers want my books to come out during the January "New Year, New You" promotional time in stores, so there's no wiggle room — each book has to be finished around October 1st in order to be produced, published, and distributed on that schedule (which itself is abnormal; in the industry we call it a "crash" schedule). So then I wind up doing a bunch of changes in production throughout October, writing promotional articles in Nov/Dec, doing a month or so of sustained publicity in the New Year, and then I have to take a little break, figure out my next idea, and get that ball rolling. Because I only had the idea and wrote the proposal in August of 2015, I ended up having to write The Life-Changing Magic of Not Giving a Fuck in one insane month. I barely remember how I did it! For Get Your Shit Together, I had about three months. It's gotten a little better each year, thankfully, as I try to have my next idea ready and under contract a little sooner each time around.
At the start of each project, I look at the approximate total word count (my books tend to come in around 45–55K words) and the number of days in which I have to get it done, then account for any known vacations or other needed days off (usually to host the friends and family who want to visit us in the tropics during the winter months that I'm always writing a new book…). Then I do the math.
Usually it works out to me needing to write 500 words per working day to stay on target. I am emphatically not a morning person, so my writing "day" is usually something like 11AM-6PM or when I'm really in the thick of my deadlines, I'll go until 10–11PM.
With the first couple of books, I was writing 6–7 days a week because I just didn't have any time to spare; with the last couple, as I said, I've gotten started with a new idea and a new contract earlier in the year so I've had a bit more leeway and been able to give myself little blocks of vacation/hostess time and also 2 days off per week (not always in a row), which is really helpful. Sometimes my brain just can't function and it's nice to know my schedule allows for that and that I won't have to pull double-duty the next day to stay on target.
Although actually, it's usually when I have taken a mental health day off that I somehow manage to have a 1,500 word day the next day!
Ideally, I turn in a rough draft to my editor about 6–8 weeks before the real final draft is due, he edits it (my UK editor also weighs in at this stage, as do my agent and sometimes my husband), and I then have a month-ish to do revisions, and then turn it in to be copyedited and get into the production pipeline. Historically my editor has had to give me another round of his own changes simultaneous with the copyedits because we just don't have time to go back-and-forth again before the deadline. That gets complicated and annoying (for me) but it makes the books better, so I do it!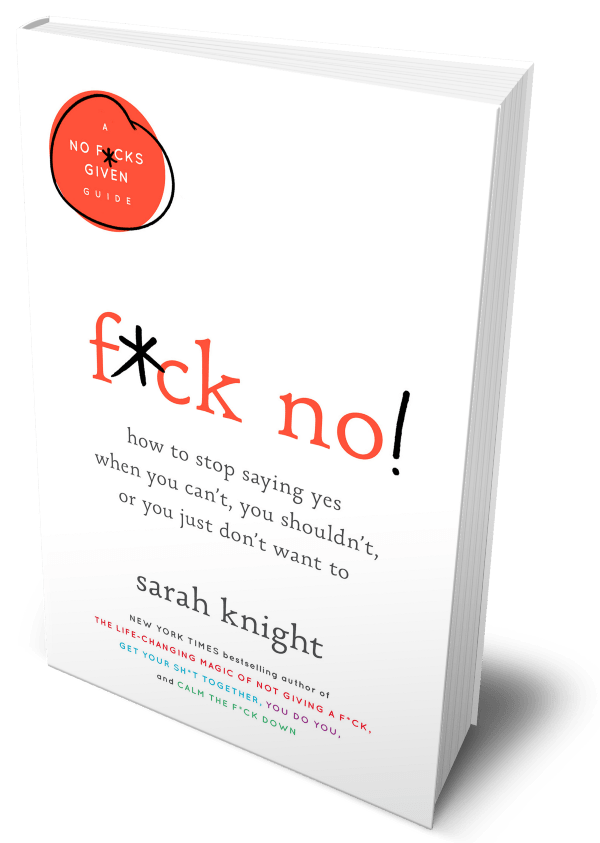 Why Do You Write?
I always wanted to be a writer in a very nebulous sense. I loved reading, I was good at writing, so I thought I should do that.
But when I graduated from college and moved to New York City, "being a writer" did not seem like a viable job, and I am nothing if not practical and risk-averse. So I found my way into a nice stable role in Publishing as an editorial assistant and eventually a senior editor with a roster of bestselling authors. For a long time, it felt like the perfect intersection of my own aptitude for writing but what I think are my greater skills as a collaborator and editor. I have a knack for improving what's already there, or for realizing what isn't, and helping the author tease it out. I really love the editing process, and I didn't leave that job because I wanted to stop editing or start my own writing career — it just sort of worked out that way.
I certainly never in a million years thought I'd be writing self-help books, but I guess it's a lot like being a book editor: part therapist, part friend, part cheerleader. Except now I'm doing it for my own readers, instead of for my authors.
How Do You Overcome Writer's Block?
If I'm stuck with one of my books, I work on something else (such as, um, that newsletter I should be sending out soon). But if I'm stuck in general,I take the day off. I will try to push through for a couple hours but I've reached a point in my process where I know when I should cut the cord or risk not only wasting time doing nothing, but also getting really anxious and depressed about having done nothing. Just close the laptop and walk away. Rest, if that's what I really need to do, or accomplish something else, like trimming this giant papyrus bush in my yard or doing laundry (both of which I find calming). And sometimes, I just have this visceral need to go look at the ocean, so I do it. I know and trust that the work will be there when I get back.
Bonus: What Do You Enjoy Doing When Not Writing?
I enjoy traveling (I have a trip to Italy coming up when I put the new book to bed), although I hate the actual process of travel, so it's a trade-off. Otherwise I love to read for pleasure, to sunbathe, and go out to eat out with my husband and friends whether in the D.R. or when we're back in New York for a visit. An Aperol spritz on the beach is my idea of a goal — get that word count done so I can make it in time for sunset!