Write Now with River Braun
How a transgender author writes young adult novels with LGBTQ+ themes and points of view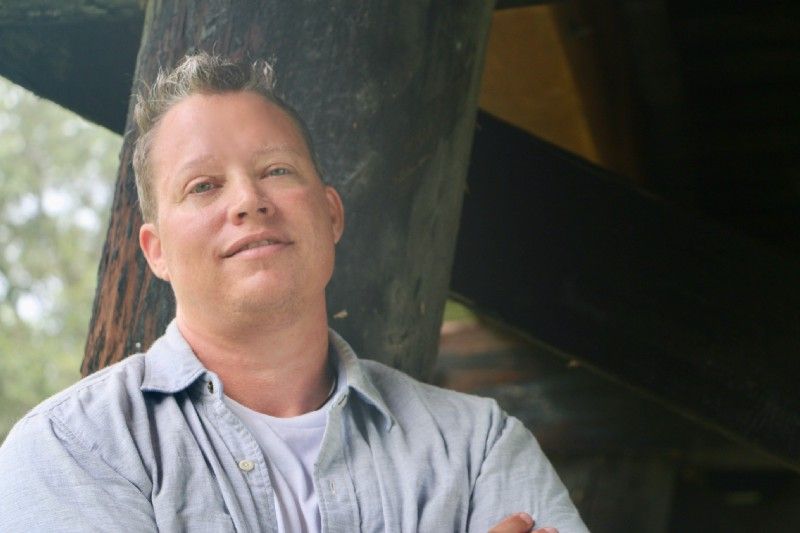 River explains "I can't think in shoes." You know, same. When I was in high school and people asked what career path I wanted to follow, I'd answer, "whatever lets me work on a laptop wherever I want." Part of the appeal was not wearing shoes. Since the pandemic moved me to working from home, and I subsequently started my own freelance writing business, shoes are rarely worn these days. And, like River, I do some of my best thinking barefoot.
River Braun's new book, call me him, is a transgender coming of age story. Proceeds from the book benefit The Trevor Project, The Human Rights Campaign, and The Transgender Law Center.
---
Who Are You?
I'm River Braun, a former attorney, transgender writer, and digital nomad. I'm based where my anchor drops — currently somewhere in the Atlantic. I make my living as a ghostwriter and web designer.
What Do You Write?
I primarily write young adult novels with LGBTQ+ themes and points of view.
I started writing when I was a teen as a way to figure out everything I was feeling and who I wanted to be in the world. I've always loved writing — no matter the subject — and as my life changed, so too did my writing. Whether it was research papers, legal briefs, or bad poetry, I knew I could just lose myself in the words flowing onto the page.
I try to write from my own experiences as much as possible. While we can all infer what it might be like to sit in another's shoes, I don't think I would ever try to write from the POV of a person of color, simply because I have not lived their experience and could in no way contribute an accurate voice to that experience.
I absolutely love what I do. Life is too short not to.
Where Do You Write?
I write wherever I find myself — usually on my boat. I write best when I'm alone in my own space. I like to curate playlists for the activity I'm doing, which includes the genre and time period I'm writing. I work on a MacBook Pro using Scrivener, and Evernote to compile notes and research. I love Evernote for that, because it syncs to all of my devices, so if I'm away from my computer, I can use my phone to collect an idea or piece of research for later use. I like Scrivener because it allows me to keep track of every scene, move things around, and export to Word, PDF, ebook, and other formats for sharing.
For journaling, I like the Hustler lined notebooks with a hardcover and integrated pen holder. My pen must be black, .7mm — always. I write too small for anything larger.
When Do You Write?
Honestly, I write when I can. I've tried setting a schedule with word count deadlines — they seldom work for me. My best writing comes organically — sometimes early in the morning — sometimes late at night, but almost always when I've had time to meditate, slow my thoughts, and enter that creative brain space. Of course, that strategy does have its drawbacks — sometimes I don't write for long periods of time, which can really affect a voice or storyline. To avoid those long stretches, I set a simple goal each day — write for an hour. It doesn't matter if I write 250 words or 2,500 words and it doesn't matter if the writing is terrible — at least the words and thoughts get on the page for editing later.
Why Do You Write?
I write because it gives my brain something to do other than drive me crazy. It's nearly impossible for me to become engrossed in creating a story and be anxious at the same time. On a broader level, I write to promote understanding.
Witnessing masterful works of art motives me to improve my craft and tell stories that move people.
How Do You Overcome Writer's Block?
I set a goal to write for an hour a day. Sometimes I just need to get the garbage out in order for the story to flow again. If I'm moved to, I write longer, but having that block of time when nothing else can intrude really helps in creating flow.
Bonus: What Do You Enjoy Doing When Not Writing?
I enjoy sailing and exploring new places, particularly in warmer climates, because really — I can't think in shoes.
A version of this article also appeared on Medium.