Write Now with Lan Cao and Harlan Margaret Van Cao
How a mother and daughter wrote a memoir together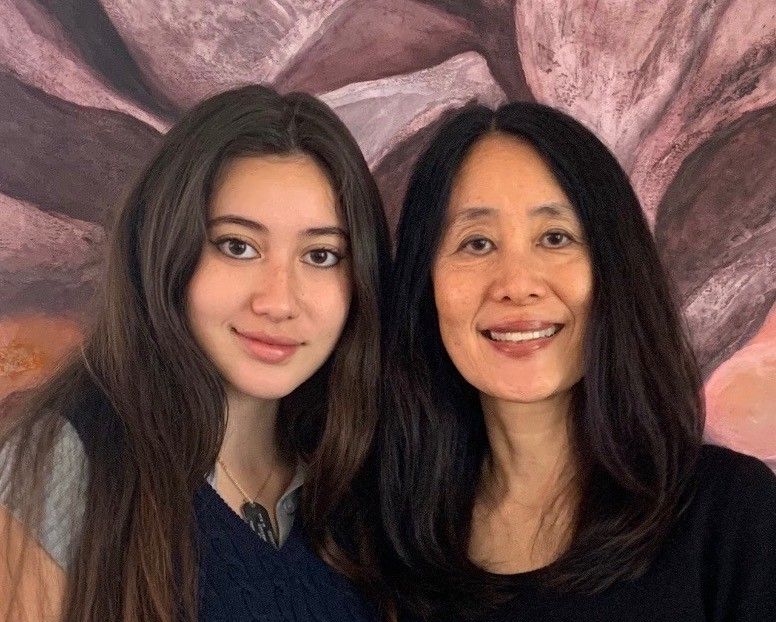 Who Are You?
We are mother-daughter duo, Lan Cao (mom) and Harlan Margaret Van Cao. Lan is a law professor at a law school in Orange, California. Harlan is a high school graduate and incoming freshman at UCLA in Los Angeles.
What Do You Write?
Harlan
My mother says I write bluntly but also somehow descriptively, which I suppose means I like to say just enough to do a character justice through my description of them while still leaving a lot of room for imagination- sometimes too much room, as I've been told my chapters are often confusing and easily misunderstood. Until I did writing as a job, I would use it to hide behind characters in order to safely express myself, like a coward's open diary. My mother, in the nineties, met our agent before I was born on a beach in the Hamptons. It may have been a nude beach but I don't know for sure. Most writers have to wait years for a reputable agent to even pick up their book for a second and glance at it, but of all the women to have the kind of luck and talent to skip over all of that and unknowingly befriend one, it was my mother. I really love my agent. When I turned sixteen, I didn't have a party. I was in Portugal drinking wine, mulling over how I was going to change high schools without plunging into depression and how I was going to write this book. I was planning on signing a contract with Penguin Random House to write a memoir for them. Unfortunately for me this meant I could no longer hide. If I wanted to get a story out there about a high school girl struggling with mental health and precarious relationships, I'd have to be able to admit that this "girl" was myself- Harlan Margaret. I was struck with bewilderment on how to even express myself through a nonfiction piece (most people do a memoir at the end of their career to look back, not when they've barely completed high school). I did not feel I had led a life in the past decade and a half that was worthy enough to use as the plot line; then, as I wrote, I surprised myself by reaching inside of myself and pulling out memories and epiphanies that would be both relatable and new to the potential readers.
I was actually handed a theme, which I am now grateful for because I am not and never was organized enough to make my own. Working with my mother, whose story centered on immigration after a war, meant that we could hopefully ground racial, gender, etc issues together. My fear was making the entire book about feminism or immigration or puberty or whatever. I always told her I didn't want to force-feed readers and remind them constantly of the issues they hear about everyday anyway. I also did not want to sound self-pitying or spoiled, even though I know deep down I am both of those things. So I suppose the theme I avoided was the concrete versions of the topics I covered, meaning that I would never discuss them as abstract or political issues unless I was speaking in personal experience; I could never lecture anyone on the Vietnam war or on bullying in high school or sexual assault trauma or even relationships- I could only babble on about what I had seen of those things and hope that I made a difference.
I do love it. I also resented it a lot during high school, though, which is not the book's fault. What I mean is I resented the writing process and I resented myself during it. I really don't want to be so simple-minded as to say that it was my teenage girl hormones that caused me to procrastinate and argue nonstop with my mother but I think that's what it was. As I wrote about everything I could remember starting at age one, including horrible things I had seen and horrible things I had done and horrible things that had been done to me or to my mother, or good things I had seen and done and whatever, I also took the SAT for the third and fourth time, found my father dead at seven am, changed high schools and had my first love, changed loves, tried to become less antisocial, pondered in therapy about whether I was actually antisocial or if I was just saying I was as an excuse because girls just didn't like me, etc. After I was finished with all of the chapters, I began working on my own fiction novel, which I haven't even shown anyone yet because there's no need to get ahead of myself. I know that when it comes to activities and jobs and chores, I quit it if I don't like it. I am not like my mother, sadly, in the sense that I don't persevere on something if I hate it. And I could never quit writing. I know that I am in love with it.
Lan
I am engaged in legal scholarship as part of my job as a law professor active in both teaching and research. But I also write novels, in addition to the current memoir. I wanted to write about my life in Vietnam before coming to the US when I saw that all the books about Vietnam were written by Americans, a void I noticed when I was in high school. In 1991 when I received a Ford Foundation scholarship to study market reforms in Vietnam, I returned to Saigon for the first time since leaving in 1975. The trip spurred me to do what I have always wanted to do — write and more specifically, write about the Vietnamese American experience of Vietnam the country, including the war.
There are no words or themes that I want to write about that I avoid, especially in fiction. When one writes fiction, the imagination is unbounded. My themes have revolved around war, exodus, loss, assimilation (or not), identity. Once I feel I have written all I want to write about these questions, I will explore other stories. Memoirs, by contrast, require a commitment to tell the truth of what happened, which doesn't necessarily mean everyone involved will agree on one's written version, but it does at least mean the writer agrees to not make stuff up. From the perspective of the writer, memoirs can be more raw and exposed. My natural inclination is more towards fiction than memoir, although my experience writing this memoir was overall a transformative experience. My daughter pushed me to include certain things that I would not have included in the memoir. These are things that are deeply personal and traumatic, but I ended up agreeing with her, and so they are now in the book.
I love what I do. My professional life as a law professor gives me a stable framework to teach, which I love to do because I love my interaction and relationship with my students. It also gives me a framework to identify, research, and write about legal issues that I care deeply about, such as those related to the post-World War II international order, international economic development and international trade. My foray into a different kind of writing, creative writing, allows me to tap into the more messy, mysterious, the darker, more muddled parts of my life. William Faulkner said, "The past is never dead. It's not even past." I write about my past and how it informs my current life, my understanding of America, of the American dream.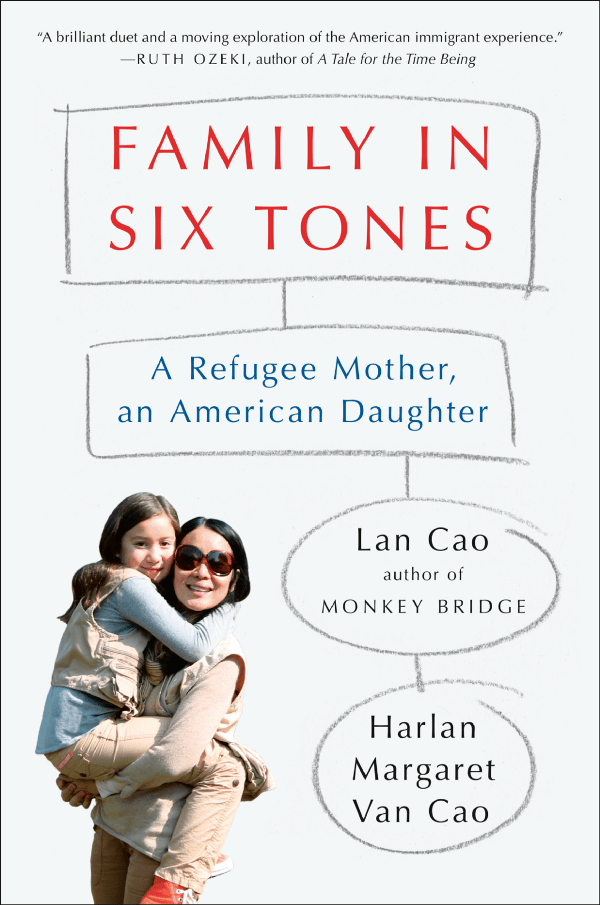 Where Do You Write?
Harlan
I wrote in school during class when the teacher wanted us to take notes on our computers on things I already sometimes knew from my mother telling me about them. Sometimes I would do it at three in the morning, sitting on the kitchen counter if I couldn't sleep.
Lan
I do have a desk with a desktop computer in an open area of the house that functions as an "office." I also have a writing studio that is separate from the house. It's basically a garage that has been refurbished into a writing space. The solid wood garage doors were replaced with glass doors to let in sunlight. I also have a laptop so I can go to different places to write, such as cafes. I don't have one place that I always go to to write. Sometimes I enjoy writing in the open space where I am in the middle of the life of the house which means a lot of interruption. The space is next to the kitchen, which means a lot of trips to the coffee machine and the refrigerator, just to open the refrigerator door and peer into it. I often find writing while everything is going on around me to be more inspiring than writing in an enclosed space where I am alone. The interruptions aren't really interruptions to me.
When Do You Write?
Harlan
The one thing I can say about myself for certain is, because I'm such a procrastinator and I also don't have that panic alarm in my head that makes me stressed out about due dates, it doesn't work for me to "set time aside" to work like it does for my mother. This may have also been because writing this story was quite heavy and forced me to think about the love hate relationship I had with myself, so I really did have to be in a particular mood to work on it. I do write notes down throughout the day when I think of something to later remind myself of ideas I'd like to express in a pretty or edgy way when I'm near my laptop. I don't have a time limit or a word count goal but come to think of it, I probably should; the publishing house did give me deadlines. For example, they'd want a couple chapters done maybe in six weeks, and then they'd give me more time to change it in the direction they wanted.
Lan
I write law review articles when I'm not teaching, usually in the morning or early afternoon. I write one substantial article a year (about 60 to 80 pages) to keep myself research active. I do my creative writing when I'm not doing legal research. My schedule is fluid. I do not have a daily word count. I write when I feel like it and I edit as I write, so my writing is very slow. There is rarely a rigid deadline. But for law writing, I try to have a first draft by the end of the summer of the prior academic year. For creative writing, unless there is a publication deadline in the contract, there is no real deadline otherwise.
Why Do You Write?
Harlan
The questions of why I write and why I do it I don't have answers to. I'm not experienced enough, but I do know that I always wanted to work in film and write and create my own movies, maybe even music one day. Scripts are just like books except that they are dominated by dialogue. I'd like my writing to lead me to other forms of creativity, like acting and scripts and directing. Everyday, things in my life happen in my family or in my love life or whatever that are both relatable and unique, and I don't ever want to forget any of it, which is why I write. Getting that contract and being able to publish when I haven't even turned eighteen really does mean the world. Sometimes I wake up and wonder if maybe I just hit my head in another life and knocked out and all of this is a dream.
Lan
In both kinds of writing, what fuels me is the desire and need to make sense of the world as I've experienced it. My legal scholarship mostly centers around the conditions for economic development. Why are some countries rich and some countries poor? Why are some communities within a rich country poor? What do history, international and national institutions, geography, have to do with it? I am interested in this question because I was born in Vietnam and Vietnam is still a poor country. My creative writing, as I said, allows me to venture, in a freeing, imaginative way, into the darker, more brooding sides of life.
How Do You Overcome Writer's Block?
Harlan
As for writer's block, I never experienced it during this first memoir, thank God. This is because my job was just to describe my life the way a writer who sees the world like me would. There were no new ideas or fictional plots to invent. When I do make fiction, though, much of it is inspired by my life so the only blocks I would have would root from not knowing how exactly to translate that into fictional characters. When I feel a block looming, I stay home and stay up all night and watch movies. I look for my life and myself in the ridiculous characters and I swear it cures all of my fear. As bad as this is, I also sometimes seek out trouble in my own "real" life in order to inspire myself to write about it. For example, if I am trying to describe an ex-boyfriend, I may think about him a lot intentionally or even go to see him to remind myself of what it was like to experience that love. Of course, I don't only do that for the writing process- I do have issues letting people go but I think that in this case it is to my advantage.
Lan
When I have writer's block, I listen to music. I look at paintings in art book. If I can, I'll go to a museum. I expose myself to other artistic mode of expression. It takes me out of my mental block, but I am still inside the artistic medium. I rarely read while I write. It feels too close to what I'm trying to do myself. Having written two novels, a memoir, (as well as many law review articles and a scholarly book on international law and culture), I am not in panic when I am stuck. I know it's just a moment in time.
Bonus: What Do You Enjoy Doing When Not Writing?
Harlan
I record some singing and music when I have time. I also have a german shepherd puppy with giant ears that I like to drive around or take to the beach. Unfortunately, I have an actual uncontrollable and unhealthy shopping addiction which will take over when I am bored or when I need to distract myself. Living in Southern California in a little town means I can go to the beach whenever I want a break from working and sitting at a desk. When I am restless I will clean the house or call a friend and make fun with them. I have officially graduated from high school but I honestly still feel like an actual baby. I know I look different and older now and I have a plan to continue writing which I love and I'm going to UCLA soon, but I really am just a baby.
Lan
When I am not writing, I enjoy listening to music and watching movies on various streaming platforms. I also like spending time with my daughter, when she has time for me. I have a new puppy that we rescued and I like to play with him.